Nigeria: 'police killing' video must lead to independent investigation of SARS police unit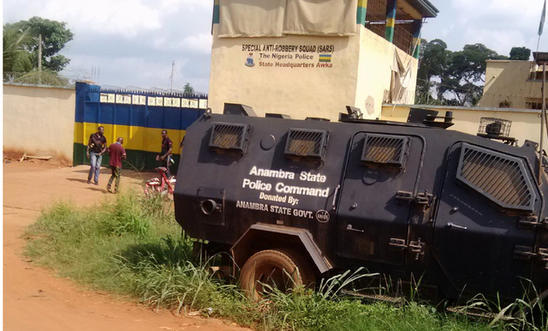 The SARS station in Anambra State, in southeastern Nigeria © Private
Special Anti-Robbery Squad has long been accused of systematic torture, sometimes to extort money from victims 
#EndSARS hashtag being widely shared in Nigeria
'The concerns of the Nigerian people are reaching boiling point' - Osai Ojigho
Responding to the circulation of a video on social media apparently showing the aftermath of an alleged killing of a young man by the country's notorious Special Anti-Robbery Squad (SARS) police unit, Osai Ojigho, Director of Amnesty International Nigeria, said:
"The scale of the reaction to this incident shows that the concerns of the Nigerian people are reaching boiling point. 

"The #EndSARS hashtag is rightly gaining the attention of the police and Nigerian government, and now officials must do more to end these horrendous abuses of power. 

"Amnesty International highlighted such abuses more than a year ago and yet these shocking incidents still continue. 

"Restructuring SARS is not enough, the government must take concrete steps to protect Nigerians.

"All incidents of violence meted out by this notorious police unit must be independently investigated, and those found to be responsible must be prosecuted in fair trials."
Torture as a means of collecting bribes
Last year, in a report called Nigeria: You have signed your death warrant, Amnesty showed how the SARS police unit had been systematically torturing detainees as a means of extracting confessions and bribes. 
The previous year, in a bid to address complaints of human rights violations by SARS officers, the Nigerian police authorities announced they would introduce reforms by splitting the command into two units: operation and investigation. However, there have as yet been no positive developments as a result of the changes.