Nigeria: killing of at least 45 peaceful Shi'a protesters must be investigated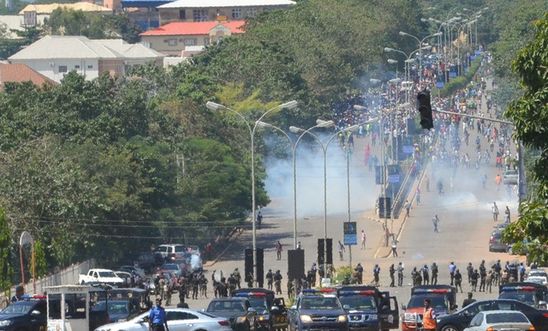 © AFP/Getty Images
Strong evidence that soldiers used automatic firearms on Shi'a Muslims holding religious procession and protest
At least 39 protesters killed and 122 wounded with gunshots in a single day
"I attended to 57 people with gunshot wounds, most of them still having the bullets lodged in their bodies" – a medical worker
An investigation by Amnesty International shows that the use of excessive force by soldiers and police led to the killing of at least 45 supporters of the Islamic Movement in Nigeria (IMN) over two days earlier this week, as the Shi'a Muslim group held a peaceful religious procession around Abuja.
Amnesty researchers visited five different locations in Abuja and Nasarawa state where wounded IMN supporters were receiving treatment, including two locations where bodies were deposited. Researchers spoke with victims, eyewitnesses and medical practitioners, and analysed videos and photographs of those injured and killed during the protests, which took place on Saturday and Monday.
Amnesty found evidence that the military used automatic firearms during Monday's protest, in which at least 122 protesters sustained gunshot wounds and at least 39 were killed. At least six people were killed in protests on Saturday.
Amnesty's research team counted 24 bodies (23 male and one female) and trusted sources provided details of 21 others. Two of the bodies seen had their legs severed, which Amnesty's military and weapons expert analysed as consistent with injuries caused by a heavy fully-automatic machine gun such as a PKM or DShK.
Osai Ojigho, Director of Amnesty International Nigeria, said:
"We have seen a shocking use of deadly force by soldiers and police against IMN members.
"Video footage and eyewitness testimonies consistently show that the Nigerian military dispersed peaceful gatherings by firing live ammunition without warning, in clear violation of Nigerian and international law.
"Those injured were shot in different parts of the body – head, neck, back, chest, shoulder, legs, arms – and some of them had multiple gunshot wounds. This pattern clearly shows soldiers and police approached the processions not to restore public order, but to kill. Many of these shootings clearly amount to extrajudicial executions.
"This violent crackdown on IMN protesters is unjustified and unacceptable. They were perfectly within their rights to hold a religious procession and protest and there was no evidence they posed an imminent threat to life."
Many injured IMN supporters have sought medical treatment in unofficial buildings due to fear of arrest if they go to hospital. One medical worker near Abuja told Amnesty: "From yesterday (Monday) I attended to 57 people with gunshot wounds, most of them still having the bullets lodged in their bodies. We are only trying to stabilise them by arresting the flow of blood before sending them to hospital. It is not an ideal situation because this is an uncompleted building, not a hospital. I am hoping that they get to hospital today."
There are reports that stones were thrown by protesters as a response to the use of lethal force, to which security forces responded with tear gas and more gunfire.
Killings must be investigated
Since a massacre of over 350 IMN supporters which took place in Zaria in 2015, the Nigerian authorities have consistently sent in the military to respond to IMN protests or marches. This strategy appears to be at least partly to blame for the bloodshed witnessed on Saturday and Monday.
Osai Ojigho said:
"We are once again calling on the Nigerian authorities to impartially investigate and bring to justice those responsible for the extrajudicial execution killing of IMN supporters, including the commanders who gave the orders for live bullets to be used. The continuous failure to investigate these gross human rights violations is fuelling a dangerous disdain for the sanctity of human life in Nigeria."
International law is clear that security forces policing demonstrations must not use firearms against protesters unless they pose an imminent threat of death or serious injury, and only if there is no lesser way to avert such threat. They must never use firearms to disperse a demonstration, even if it turns violent. Firearms must never be used as a tactical tool for the management of demonstrations: they may only be used for the purpose of saving another life.
The Nigerian authorities have an obligation under international law to ensure there is a full and independent investigation of deaths at the hands of security forces and that those responsible, including in the command structure of the security forces, are held accountable under criminal law.
Background
The IMN is a Shi'a religious and political organisation whose leader, Ibraheem Yaqub El-Zakzaky, has been a proponent of Shi'a Islam in Nigeria since the 1980s.
During protests on Saturday and Monday IMN members demanded the release of Sheik Ibrahim El Zakzaky, whose detention was described by a federal court in December 2016 as unlawful and unconstitutional.
Amnesty's research has shown that between 12-14 December 2015, more than 350 IMN members were killed by security forces in Zaria, Kaduna State.