Nigeria: Growing concern over failure to protect civilians from armed groups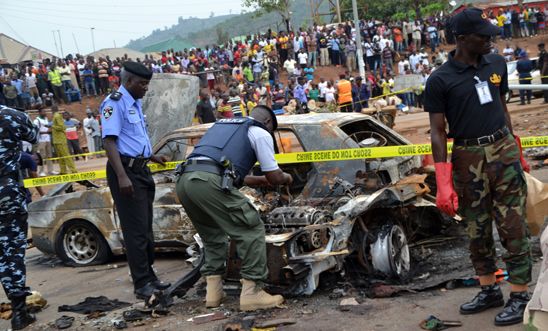 Nigerian security personnel inspect the site of a blast at Nyanya bus station in the outskirts of in Abuja today © AFP/Getty Images
Last night's deadly car bombing in a suburb of the Nigerian capital Abuja displayed a callous disregard for human life and highlights the urgency of bringing an end to the campaign of violence against civilians being waged by Islamist armed groups in Nigeria, Amnesty International said today.
The latest attack which killed 19 people and injured over 60, comes as many Nigerians are demanding the release of more than 200 schoolgirls abducted in an overnight raid by an armed group in Chibok, north-eastern Nigeria, on 15 April. It is not yet known who is responsible, but Islamist groups including Boko Haram have carried out similar abductions in the past.
On Wednesday, hundreds of people – including mothers of the abducted schoolgirls – marched to the National Assembly in Abuja to hand over a letter demanding more action from the Nigerian authorities to secure the girls' release.
Kate Allen, Amnesty International UK Director, said:
"The bombing and mass kidnapping are the latest atrocities in a never-ending series of appalling crimes in Nigeria. For example, Amnesty has already documented the killing of more than 1,500 people in violence associated with Boko Haram in the first three months of this year.
"There's growing concern that the Nigerian authorities are failing to protect their population from armed groups who are increasingly holding the country to ransom.
"The authorities in Abuja need to recover the kidnapped girls and bring the kidnappers to justice as a first stage in re-establishing law and order in the country."
More than 1,500 people have been killed since the beginning of 2014 amid fighting between Nigerian security forces and Islamist armed groups.