Nicaragua: Government repression intensifying – new report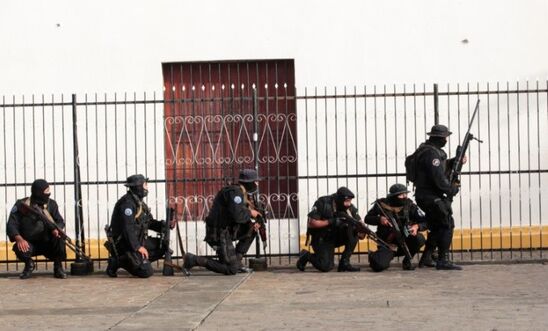 Nicaraguan National Police © Oswaldo Rivas / Amnesty International
New laws to limit free expression, with human rights defenders increasingly targeted
Fears situation will deteriorate ahead of November's presidential election
'The options were jail, the cemetery or exile' - exiled human rights defender Gonzalo Carrión
Political repression is intensifying in Daniel Ortega's Nicaragua, said Amnesty International today (15 February), as it published a new report showing how human rights activists are specifically being targeted by the authorities. 
In its 26-page report – 'Silence at any cost: State tactics to deepen the repression in Nicaragua' - Amnesty describes how the government has perfected its repressive machinery by using a series of sophisticated tactics to silence any form of criticism and social demand.
Last October, repressive new laws were proposed that would seriously threaten the right to freedom of association and freedom of expression in Nicaragua. The government uses the judicial system to inflict arbitrary arrests, false charges and jail. They also clamp down on human rights organizations by removing their legal registrations, raid their offices and seize their property.
Human rights defenders in the country already routinely face surveillance, threats from police officers, physical attacks, and in some cases imprisonment. Constant threats and harassment have caused thousands of people - including journalists and human rights defenders to flee to other countries.
Vilma Nuñez, a human rights defender at the Nicaraguan Center for Human Rights, said:
"What they are approving are instruments of repression to legalise all the attacks that, for a long time, have been committed against human rights."
Gonzalo Carrión, a human rights defender who now lives outside Nicaragua, said:
"The options were jail, the cemetery or exile."
It is feared that in the run-up to the presidential elections in November, human rights violations will intensify as the Government seeks to silence any form of opposition or criticism in the country.
Erika Guevara-Rosas, Americas Director at Amnesty International, said:
"Achieving justice in Nicaragua seems impossible.
"For almost three years, Daniel Ortega's government has shown time and again that it is willing to do anything to prevent human rights from becoming a reality in Nicaragua.
"The international community must take decisive steps and support those who fight for a Nicaragua free of repression.
"We will not stop our work exposing these violations until the Nicaraguan government is held accountable and puts an end to human rights violations."