New Zealand: Award-winning Iranian journalist Behrouz Boochani granted visa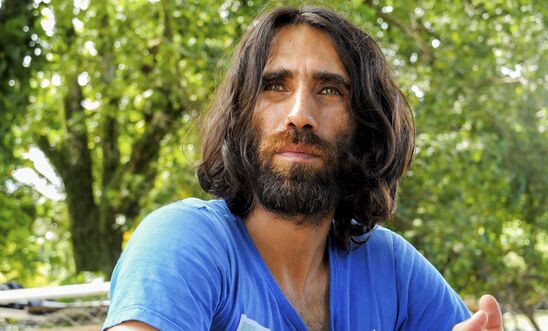 Behrouz Boochani, an award-winning journalist from Iran who is known for his work reporting on human rights abuses, has been granted asylum in New Zealand.
In November last year, he was invited to speak at a notable literary festival in New Zealand, and his visa to travel was sponsored by Amnesty International.
Boochani then applied for asylum in New Zealand during his visit. Due to legal restrictions that protect the right to privacy for asylum seekers in New Zealand, the authorities, his legal team and Amnesty were prevented from discussing the case.
Boochani has now been granted a one-year work visa, and can apply for permanent residency in New Zealand, which is a route to citizenship.
Meg de Ronde, Amnesty International New Zealand's Executive Director, said:
"Today is a day for celebration. It's wonderful to hear that New Zealand is offering him freedom and the chance to rebuild his life here.
"Behrouz is a survivor. People who have no choice but to flee their home countries deserve our compassion, but the treatment he and thousands of others received from the Australian authorities was abhorrent.
"Hundreds of people are still being held against their will in Australia, Papua New Guinea and Nauru. Enough is enough. It's time for Australia to accept the New Zealand offer to take 150 of these refugees per year.
"Today is the first day in Behrouz's life that he is free. Free from the persecution of the Iranian authorities simply because he is Kurdish. Free from the deliberate cruelty of the Australian government. Free from the physical and mental abuse of the PNG guards. Free from the crushing injustice of being denied his rights."
Using nothing but a mobile phone, Boochani wrote the book 'No Friend But The Mountains', about his harrowing journey to find freedom and a safe place to rebuild his life, only to be banished to Manus Island along with hundreds of other men.
History of Australia's illegal policy of 'offshore processing'
Amnesty has long documented human rights violations in Australia's illegal policy of 'offshore processing'. It is a humanitarian crisis where thousands of people have been stranded in detention centres indefinitely, in conditions that amount to torture. In October last year, the Australian government confirmed that 562 refugees and asylum seekers remain in Papua New Guinea and Nauru under these cruel policies.