New poll shows strong global opposition to USA's mass surveillance programme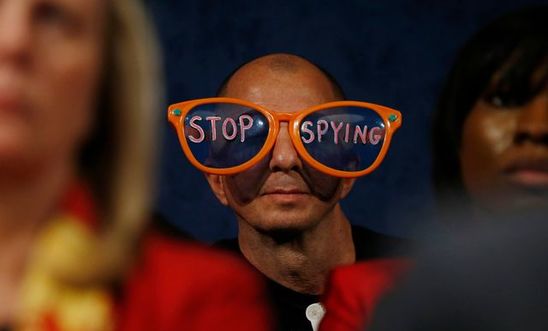 © JASON REED/Reuters/Corbis
'There is little or no legislation in any country that really protects our human right to privacy against indiscriminate mass surveillance' – Salil Shetty
The United States' mass surveillance of internet and phone use around the world flies in the face of global public opinion, Amnesty International said today (18 March), as it published a major poll to launch its worldwide #UnfollowMe campaign.
The poll, which questioned 15,000 people from 13 countries across every continent, found that globally 71% of respondents were strongly opposed to the United States monitoring their internet and mobile phone use. In Britain, 63% of respondents were opposed to US surveillance of UK internet and mobile phone use, with only 21% of people in favour.
In June 2013 whistle-blower Edward Snowden revealed that the US National Security Agency was authorised to monitor phone and internet use in 193 countries around the world. In a snapshot of the agency's surveillance capabilities, it was revealed that it collected five billion records of mobile phone locations a day and 42 billion internet records - including email and browsing history - a month. Every day, US spies passes on about 200 million text messages with the UK security services. US and UK spies store webcam images of millions of internet users not suspected of any wrongdoing and can switch on the microphone of people's mobile phones and listen to conversations, even if the phone is turned off.
Opposition to US mass surveillance strongest in Brazil and Germany
The strongest opposition to the US intercepting, storing and analysing mobile phone and internet use came from Brazil (80% against) and Germany (81%).
Following the Snowden revelations, there was widespread public outcry in both countries after it was revealed that even the phone calls of Brazil's President Dilma Rousseff and German Chancellor Angela Merkel had been monitored by the US.
Even in the country with least opposition, France, the majority of people still opposed US surveillance (56%). The poll was taken shortly after the Charlie Hebdo attack.
Key US allies also oppose surveillance
The United States shares the results of its mass surveillance programme with the secret intelligence agencies in the UK, Australia, Canada and New Zealand under the so-called "Five Eyes Alliance". Even in these countries, more than three times as many people oppose US surveillance (70%) as support it (17%).
In Britain, the majority of people who chose a preference oppose surveillance by their own government as well, with 44% saying they thought the UK government should not be carrying out mass surveillance versus 36% in favour, despite a prevalent climate of fear over security concerns.
Kate Allen, Amnesty UK Director, said:
"This highlights the need for a properly-informed debate here in the UK about privacy rights and legitimate security concerns.

"Instead of open debate, we have seen legislation rushed through without normal parliamentary scrutiny, secret court hearings and absolutely no proper independent oversight to hold the spies to account.

"Nobody disputes the necessity of properly-targeted surveillance, but the government must not ride roughshod over the rights of the very people they're supposed to protect."
Foreign nationals
Attitudes to surveillance are significantly different when it comes to foreign nationals living in host nations. Across the 13 countries, slightly more people (45% on average) approve of their governments monitoring foreign nationals' phone and internet use in their country, compared to 40% against.
France and Britain top the table of countries in favour of monitoring foreigners in their country, with twice as many people approving (54% and 55% respectively) than opposed it (27% and 26%). Likewise, half of US citizens felt their government should monitor internet and phone use of foreigners within the US, with only 30% opposing it.
Salil Shetty, Amnesty International's Secretary General, said:
 
"President Obama should heed the voice of people around the world and stop using the internet as a tool for collecting mass data about peoples' private lives.

"Today's technology gives governments unprecedented power to watch what we do on the internet. We need independent scrutiny to watch the watchers so that power is not abused.

"Yet today there is little or no legislation in any country that really protects our human right to privacy against indiscriminate mass surveillance, more countries are actually considering laws granting wider surveillance powers, at the expense of people's rights.

"The message is clear: even citizens of the United States' closest allies do not want their internet use recorded by governments. The UK and other Five Eyes countries should be open with their own people about how they are sharing the spoils of surveillance – our personal data."

 
Legal action
Amnesty is taking legal action against the US and UK governments challenging the lawfulness of their indiscriminate mass surveillance programmes. Twice this year the UK government has been caught out acting unlawfully, most recently in regard to its practices for monitoring legally-privileged information between a lawyer and client. Earlier, in February, the Investigatory Powers Tribunal found that the UK's intelligence services acted unlawfully in accessing millions of people's personal communications collected by the US National Security Agency.