New Poll: one in three teachers feel ill-equipped to teach human rights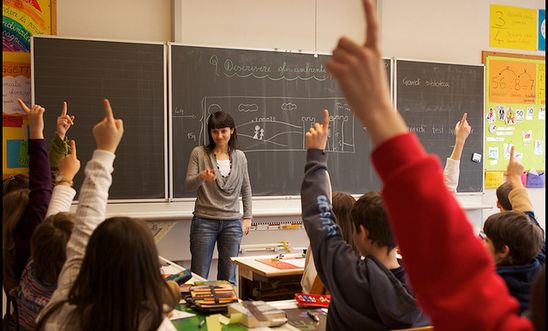 Nearly one in three teachers (32.9%) does not feel equipped to teach human rights, according to a poll commissioned by teachers' magazine TES and Amnesty International.  
The survey, which asked nearly 700 teachers across England, Wales and Scotland, also found that one in two teachers (47.4%) think children at their school do not understand the concept of human rights. 
The TES-Amnesty survey – commissioned to assess the level of knowledge of, and commitment to human rights education across schools and colleges in Great Britain ahead of Amnesty International's Youth Awards – revealed a patchy level of confidence in teaching human rights and a varied degree of knowledge amongst students. It also found that 46% of children do not have an awareness of their own human rights. 
Editor of TES, Ann Mroz, said:
"At a time of heightened interest in human rights it is fascinating that teachers feel there is much work to be done in this area in schools and in curriculum terms. As we look towards the anniversary of Magna Carta this year, it is surely good news that teachers believe teaching human rights is so important. 

 

"We are supporting the Amnesty Youth Awards because we believe that our young people should have as full a grasp of human rights as possible."
Amnesty International's Youth Awards Project Manager, Alice Edwards, said: 
"These findings are a concern.  Imagine if we were talking about English, Maths or Science?  Human Rights are principles upon which we rely on a daily basis.  But at Amnesty we know it's not always easy for teachers to find the space for human rights education in schools. That's why we do everything we can to produce relevant, enriching curriculum linked resources to support teachers in engaging their students."
Amnesty International spoke to a few of its student members to ask whether they agreed with these findings and what their peers thought of human rights.  
Seventeen-year-old Rona Hardie said:
"Unfortunately there is a stigma that surrounds standing up for human rights amongst most teenagers I know.  But on the other hand there is a basic understanding of what it means to have a human right and why it is important."
Berkhamsted School pupil Lizzie Wood, who is also 17, added:
"The idea of 'human rights' is thrown about a lot, but not many question what it actually means. To many, it is a convenient excuse. People know they have rights, but not what exactly they are, or what impact not having rights would have.  

 

"In a society, and in a privileged corner of England, human rights are not discussed because they are never truly denied. When not personally affected, I find that global issues only go skin deep. Human rights are not a problem for the lucky few and therefore unworthy of attention. Like so many other commodities, we have taken them for granted."
Amnesty runs a series of human rights education training programmes and is currently inviting school pupils from aged seven to 19 in full time education to enter its Amnesty International Youth Awards competition – details of which can be found here:
www.amnesty.org.uk/youthawards&nbsp
;
Notes to the Editor 
671 teachers took part in the TES-Amnesty survey which was operated via SurveyMonkey  around Christmas.
Amnesty's Youth Awards is being run in partnership with the TES and sponsored by SOAS, University of London
For a full breakdown of the poll results visit www.tesconnect.com/amnesty
To arrange an interview please contact TES or Amnesty International.