New poll of football fans reveals 86% want human rights to be considered when awarding international tournaments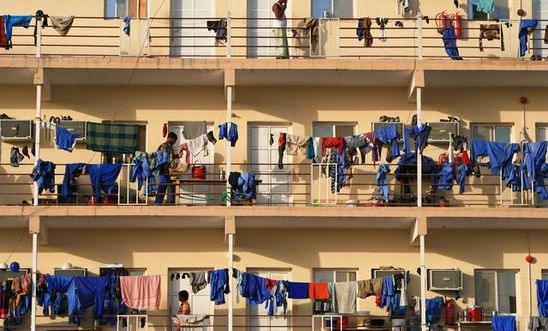 Migrant worker living quarters in Qatar © Richard Messenger
82% believe Fifa has a human rights responsibility
Amnesty International spokesperson available on request
On the eve of the opening of the Fifa Congress in Sao Paulo, an opinion poll has revealed 86% of fans believe human rights issues should be taken into consideration when awarding international tournaments.
The mutli-national poll of over 13,000 football fans, commissioned by Amnesty International UK and the Swedish app developer Football Addicts, also revealed that more than eight out of ten of those polled believed Fifa has a responsibility to stand up for human rights.
Furthermore, 73% of fans who responded said Fifa should consider moving the 2022 World Cup from Qatar on human rights grounds, following a global outcry over abuses of migrant workers rights in the country exposed in investigations by Amnesty and others. Amnesty itself is not calling for the 2022 World Cup to be moved as it believes there is still time for real and lasting human rights change.
Kate Allen, director of Amnesty International UK, said:
"The results of the poll are undeniable. The message from football fans is loud and clear, Fifa and other international organisations must consider human rights when picking their venues.

 

"I am sure Fifa's executives and sponsors will find these results extremely illuminating.

 

"The belief that human rights and sport should not mix has been exposed as a myth. And as the Fifa Congress in Sao Paulo is about to begin, now is the time to act."

 
Amnesty UK has compiled a list of key human rights concerns linked to major sports events which includes freedom of expression, child labour, human trafficking and the right to protest.
Patrik Arnesson, the 28-year-old co-founder of Gothenburg-based Football Addicts, added: 
 

"It is striking that every country overwhelmingly agrees that Fifa has a responsibility to stand up for human rights, and it sends a clear signal to Fifa that the fans want something to be done. 

 

"Football would be nothing without the fans, so these results shows that Fifa need to tackle human rights abuses as an urgent priority. 

 

"This is particularly poignant considering the outrage sparked by recent allegations of corruption surrounding the Qatar World Cup bid: it is concerning that it is this, rather than the allegations of human rights abuses, that seems to have gained more international attention and sparked serious discussion about potentially moving the tournament." 
The poll is the largest-ever conducted of international football fans on their attitudes towards human rights in relation to international sporting events.
The questions in the fully anonymous poll, were prepared by Amnesty, and posed to users of Football Addicts' Forza Football app, which allows fans' voices to be heard collectively through real-time in-app votes on key issues. 
Notes to editors
Responses were received from Australia, Belgium, Brazil, Colombia, Denmark, France, Germany, Ireland, Italy, Mexico, Netherlands, Portugal, Russia, Saudi Arabia, Spain, Sweden, Switzerland, UK, and the USA. 
The Fifa Congress is the meeting held in Sao Paolo before the start of the World Cup
Football Addicts is the Swedish app developer behind popular apps Forza Football and Forza 90' (previously known as Live Score Addicts and Player of the Match). Its apps have 4.5 million total downloads and 2.5 million monthly active users. Forza Football is the second largest and fastest-growing football platform in Europe, covering over 420 leagues from around the world. Over 41% of Forza Football users check the app every day, and the app will be featuring World Cup match prediction polls in the lead up to and during the 2014 FIFA World Cup. The apps are free to download from iTunes and Google Play.