New inquiry into US 'A-Team' killings of Afghan civillians 'welcome, but overdue'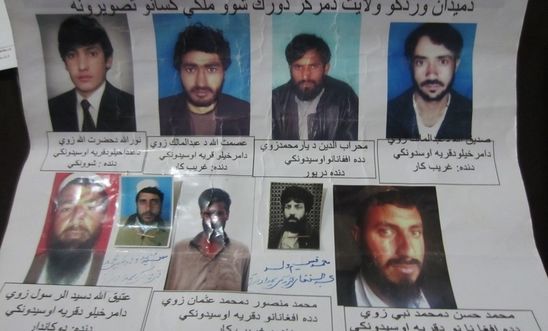 Photos of victims who were detained by US Special Forces in Nerkh
The US authorities must ensure that the re-opened investigation into the alleged killing of some 18 Afghan civilians by a US Special Forces Unit known as the 'A-Team' is rigorous and thorough, Amnesty International said today, as it warned the investigation was one of many needed.
The inquiry is set to look at the Special Forces Unit believed to have been responsible for extrajudicial killings, torture and enforced disappearances between November 2012 and February 2013. The unit allegedly killed up to 18 people in Wardak province's Nerkh and Maidan Shahr districts. Amnesty documented the killings in a major report published last year, which highlighted a lack of accountability for civilian casualties caused by international military forces in Afghanistan and found "abundant and compelling evidence of war crimes".
Amnesty's report concluded that the deeply flawed US military justice system did not provide a fair opportunity for Afghan victims to obtain justice. Of ten cases investigated in the report involving the killing of at least 140 civilians no-one had been held criminally responsible.
Richard Bennett, Amnesty International's Asia Director, said:

"This is a welcome but overdue move by US military authorities. It is shocking that the Afghan victims' family members are still waiting for justice, despite overwhelming evidence that the Nerkh and Maidan Shahr killings amounted to war crimes.

"The investigators must carry out a rigorous and thorough inquiry, including interviews with former prisoners detained by the unit and family members of those who were killed. It is also crucial that family members are kept informed as the investigation progresses.

"This case, albeit extremely serious, is one of many. We have seen again and again how the US military justice system fails to investigate and prosecute serious violations of international humanitarian law in a prompt, fair and impartial manner."
The investigation into the alleged crimes is being carried out by US Army Criminal Investigation Command. Amnesty has raised concerns about numerous flaws in the US military justice process, including a lack of independence of those making key prosecutorial decisions in such cases. Prosecutorial decisions in cases involving civilian casualties should be conducted by civilians who are independent of the military chain of command, Amnesty insisted.
Background
Last year, Amnesty interviewed ten eyewitnesses to the crimes at issue in the investigation, including four who were detained by the Special Forces Unit. One former detainee, who claimed that he was held by the unit at Combat Outpost Nerkh for 45 days, described an array of torture techniques that the unit employed, including electric shocks, near-drowning, near-burial and severe beatings.
The former prisoner, who had been interviewed by a US military investigator two months before Amnesty spoke to him, claimed that he'd witnessed the killing of another prisoner named Sayed Muhammed. Muhammed was beaten to death by an American who he described as "a big guy with a big, bushy red beard, and green eyes."
Operational Detachment Alpha (ODA) 3124, or "A-Team," the unit believed responsible for the crimes, was an elite unit reportedly consisting of 12 US soldiers who worked closely with Afghan Special Forces operatives. Journalist Matthieu Aikins wrote an important exposé of the killings that was published in Rolling Stone magazine in November 2013. http://www.rollingstone.com/feature/a-team-killings-afghanistan-special-forces