New collection of photographs by Reggie Yates throw spotlight on campaign for people with albinism in Malawi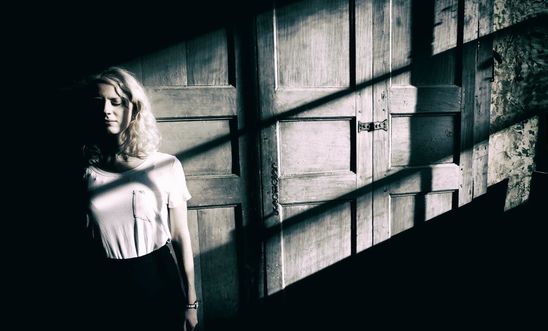 Deirdre from Dublin stands in solidarity with people in Malawi © Reggie Yates/Amnesty International
"My message to Annie is that you're incredibly inspirational." – Reggie Yates
Broadcaster Reggie Yates has joined forces with Amnesty International and taken a unique collection of photographs of people in the UK living with albinism as part of Amnesty's campaign on the issue.
The exhibition of images will be on display at a gallery in east London on 16 and 17 December.
Four people with albinism – a genetic condition which results in the absence of pigmentation in the eyes, skin and hair – Deirdre from Ireland, Christian from Cameroon, Yemi from Nigeria and nine-year-old Zain, born in the UK with Pakistani parentage – participated in the photoshoot to show their solidarity with people with albinism in Malawi, including 11-year-old Annie Alfred.
Annie features in Amnesty's Write for Rights campaign where people around the world are encouraged to send a message of hope to someone whose rights are being abused.
Over the last two years in Malawi, Amnesty has recorded a surge in killings of people with albinism.  Between December 2014 and April this year, at least 18 people with albinism were killed, five others abducted and their whereabouts remain unknown and at least 69 other crimes have been reported against people with albinism, - including attempted abductions and the opening of graves in search of bones of dead people with albinism.,
This rapid rise in abductions and death has exposed a systematic failure of policing in Malawi and left this vulnerable group of people living in fear.  In April alone this year, four people, including a baby, were murdered.
Thousands of people with albinism live in constant fear of being abducted or killed in Malawi, where their body parts are being sold for use in ritual purposes. Ritual killings of people with albinism are influenced by superstitions and myths that their bones or body parts can bring riches.  
One of the people featured in Yates' photographic collection is Christian originally from Cameroon, now living in the UK. Christian said:
"The situation growing up in Africa is quite challenging and difficult so I feel if I can do something to help change the situation, then I want to. My hardships started from childhood, because I never had the chance to know my father. I was told by my mum he left the hospital when he came to see me for the first time and he never came back because he did not believe I was his son, because of my albinism. So my challenges started from that point."

Deidre travelled from Dublin to Shoreditch, east London to take part in last month's photoshoot. When asked why she chose to take part, Deirdre said: "I just jumped at the opportunity! I thought this would be a practical thing I could contribute to, to show people with albinism in Malawi that they're not alone. That we stand in solidarity with them."
Amnesty International UK's Individuals at Risk Campaign Manager Kathy Voss said:
 
"Between 7,000 and 10,000 Malawians live with albinism, and every day they're in danger of being abducted, mutilated or killed because of erroneous beliefs and superstitions, with children like Annie at particular risk.  Even after death, their bodies are often stolen for use in witchcraft rituals.

"Many Malawians with albinism speak out for their rights, but it takes courage and persistence. We are delighted with Reggie Yates' beautiful photos which project a clear message of support and solidarity, which can help to keep people going."
Reggie Yates said:
"The dangers and threats levelled at people living with albinism in Malawi are hardly ever discussed here in the UK. But the reality for so many of them is terrifying. It was great to have met such amazing people from all walks of life, and to take their photographs which I hope will play a role in supporting and encouraging Annie Alfred and all the thousands living in Malawi with albinism.

"My message to Annie is that you're incredibly inspirational.  The fact that you have the strength to be the face of a campaign like this, to me is super inspiring and hopefully you can inspire other people."  
 
The photographic exhibition: Reggie Yates and Amnesty International present "From London to Lilongwe: Photographs of solidarity and hope" will be on display at Huck Art Gallery, Leonard Street, Shoreditch between 16 – 17 December.