New advertising campaign challenges politicians over Human Rights Act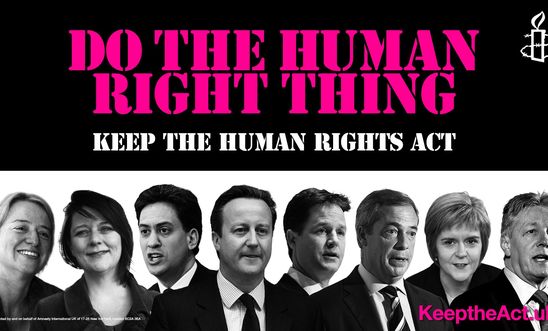 Ahead of the latest leaders' election debate from Central Hall, Westminster
"Human rights should not be used as a political football. They are not, and never should be, gifts to be doled out by the government of the day." – Kate Allen
Amnesty International today (Thursday 16 April) launched a new campaign calling on the leaders of all political parties to "do the human right thing" and protect the Human Rights Act.
The campaign features a 15 foot-long "ad van" which will be doing laps of Westminster emblazoned with the "Do the human right thing: Keep The Human Rights Act" slogan as well as the faces of party leaders. The van will drive past parliament, across Westminster Bridge and back throughout the day and will be seen by politicians and thousands of members of the public.
There is also a dedicated website (www.keeptheact.uk) with stories of ordinary people who were able to use the Human Rights Act to claim their rights, and full-page adverts placed in The Times, The Guardian, The Independent, The London Evening Standard and on political websites including Conservative Home, LabourList and Guido Fawkes.
Kate Allen, Amnesty International UK Director, said:
"Human rights should not be used as a political football. They are not, and never should be, gifts to be doled out by the government of the day.

"People all over the world are still fighting for their essential human rights, risking their safety and freedom.

"It took ordinary people a very long time to win those rights here and we shouldn't let politicians take them away with the stroke of a pen."
Cases highlighted by Amnesty's campaign include
A woman with Multiple Sclerosis who was forced to spend all day, every day in bed was able to use the Human Rights Act to get her local council to increase the amount of care she received to a sensible level, and so was able to live a normal independent life again.
An elderly couple who were placed in separate care homes after 65 years of marriage. They were able to use the Human Rights Act to successfully persuade their local authority to allow the wife to move into her husband's care home so that they could be together.
A young boy with a severe learning disability who required substantial care from his father was placed in temporary care when his father fell ill, but when the father recovered, the council refused to reunite the pair. They were finally reunited after a court concluded that the council had breached their human rights.
More than 18,000 people have already signed up to a call on the next government to protect the Human Rights Act. The website can be found at: www.keeptheact.uk