Network Rail pulls Amnesty's Human Rights Act adverts at last minute for being 'too political'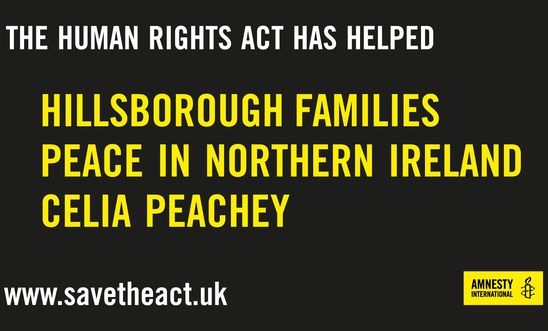 'We are very disappointed with Network Rail's decision to pull these adverts at the eleventh hour. We simply don't accept that basic human rights are ever a political issue' – Kate Allen
A nationwide public awareness campaign on the importance of the Human Rights Act, highlighting its role in the Hillsborough inquest with adverts set to run in train stations across the UK from today, was pulled at the eleventh hour last night by Network Rail who deemed it "too political".
Billboards were set to display the following:
The Human Rights Act has helped:
The Hillsborough families
Peace in Northern Ireland
Gary McKinnon, Celia Peachey, Frank and Janet Robinson, Jan Sutton and many more ordinary people
It works. Save the act.  www.savetheact.uk
Rail stations which were set to carry the adverts were in Liverpool, Edinburgh, Glasgow, Manchester, Birmingham and London's Waterloo and Victoria stations.
Transport for London (TfL) carried the adverts in Westminster underground station as planned, and adverts are running in print and online extensively. An ad van is also doing laps of Westminster and across London today. Pictures available.
JCDecaux, the agency who had booked the space, have moved the adverts to key roadside billboards, airports and bus shelters.
Responding to Network Rail's decision, Kate Allen, Amnesty's UK Director, said:
"We're very disappointed by Network Rail's decision to pull these adverts at the eleventh hour. We simply don't accept that basic human rights are ever a political issue.

"The irony is that human rights cross party-political lines and so do failures, cover-ups and abuses. Successive governments managed to let down the Hillsborough families, and their story demonstrates precisely why we need enduring human rights protections which aren't redrafted by the government of the day, on a political whim.

"It's vital to safeguard basic rights in these politically volatile times as constant protections relied on by ordinary people."
Barry Devonside, who lost his 18-year-old son Christopher at Hillsborough, said of the decision:
"It's a very small-minded decision for Network Rail to take. Human rights aren't political; they cover everyone right across society. I don't think many people know about the Human Rights Act and how important Article 2, which protects the right to life, is. But we do, and the Human Rights Act is one of the most important things in our society."
Amnesty has today published a new YouGov poll which found that most people (70%) in the UK who expressed an opinion were unaware of the role the Human Rights Act played in the historic Hillsborough inquest which returned a conclusion of "unlawful killing" of 96 football fans earlier this year.
Amnesty is also releasing three powerful two-minute-long films featuring interviews with three of the Hillsborough relatives talking about their long fight for justice and how the Human Rights Act provided a vital backstop when other avenues of justice had failed them. The videos feature the stories of Becky Shah, who lost her mother Inger at Hillsborough, Barry Devonside, who lost his 18-year-old son Christopher, and Steve Kelly, who lost his brother Mike. They are all available to embed and are at www.savetheact.uk
Peace in Northern Ireland
The new campaign will also raise awareness of the role that the Human Rights Act plays in the Good Friday peace agreement which ended "the troubles" in Northern Ireland. YouGov found that 74% of people who expressed a view were unaware that the Human Rights Act was part of the peace agreement. One in two (49%) of the people who expressed a view reported that they would be worried if the repeal of the Human Rights Act led to a need to redraft the peace agreement. Troubles victims and a signatory of the Good Friday Agreement, Professor Monica McWilliams, also warned today that the repeal of the Human Rights Act could threaten peace in Northern Ireland and joined the call for the Human Rights Act to be kept.
Professor Monica McWilliams, said:
"We would never have contemplated that the Human Rights Act would be in jeopardy at any stage. It was a building block of our agreement. To take this away from Northern Ireland is just absolutely shocking."
Other Human Rights Act cases
Amnesty is also highlighting the stories of several other individuals who relied on the Human Rights Act, and who will feature on the posters and adverts. The four other cases featured are those of Celia Peachey, whose mother Maria was murdered by her violent partner and who used the Human Rights Act to hold the police to account for a series of failures in providing her with protection as well as in investigating her death; Frank and Janet Robinson, who were granted a second coroner's inquest which looked at the hospital's systematic failures which contributed to the death of their son John in Mid Staffs hospital after he was originally sent home despite having to be put into a wheelchair semi-conscious  and vomiting violently on discharge; Jan Sutton, who is severely disabled with MS who challenged the inadequate care provision from her local council which left her bedbound for hours every day; and Gary McKinnon, who was accused of computer hacking and whose extradition to the USA was prevented by the then Home Secretary Theresa May using the Human Rights Act.
*A previous edition of this story said National Rail. Network Rail have said it was their decision