Nazanin Zaghari-Ratcliffe: Reduced contact with family 'needlessly cruel'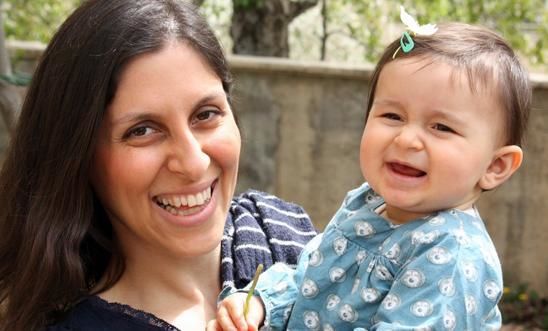 Responding to reports that Nazanin Zaghari-Ratcliffe has had her contact with her family limited by authorities in Evin Prison, Ellie Kennedy, Campaign Manager at Amnesty International UK, said:
"Reducing Nazanin's already-minimal contact with her family is yet another needlessly cruel decision, designed to punish her even further.

"Nazanin is still a prisoner of conscience, still unfairly jailed after a sham trial, and still being subjected to the torment of separation from her home and family.

"This deeply troubling case urgently needs to be resolved. The Prime Minister must ensure the Government maintains maximum diplomatic pressure on the Iranian authorities to secure Nazanin's freedom as soon as possible."
Grossly unfair trial and ongoing health concerns
Nazanin Zaghari-Ratcliffe, 41, a British-Iranian dual-national charity worker, was arrested at Tehran's Imam Khomeini Airport on 3 April 2016 prior to boarding a plane back to the UK after a regular family visit to the country with her infant daughter Gabriella. After being detained in solitary confinement without access to a lawyer, Zaghari-Ratcliffe was sentenced to five years in prison in September 2016 after being convicted of "membership of an illegal group" in a grossly unfair trial by a Revolutionary Court in Tehran.
Zaghari-Ratcliffe is presently serving a five-year jail sentence in Tehran's notorious Evin Prison. Since being jailed, she has suffered a serious decline in her physical and mental health, something her husband has repeatedly drawn attention to during a high-profile campaign on his wife's behalf. Her requests for periods of temporary release - for which she is eligible - have been met on only one occasion (last August), followed three days later by a return to jail. Amnesty described her return to jail on 26 August last year as a "crushing disappointment". She is suffering from numerous health problems and there have been serious concerns over her mental health.
Amnesty has designated Zaghari-Ratcliffe a prisoner of conscience targeted solely for the peaceful exercise of her rights to freedom of expression and association. Amnesty has repeatedly called on the Iranian authorities to release her immediately and unconditionally.