Mexico: Two years on from student disappearances, Peña Nieto "will stop at nothing" to cover up abuses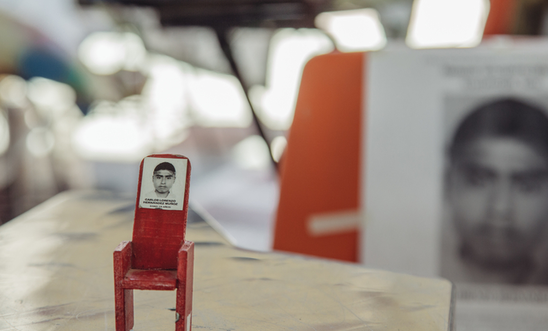 One of the Ayotzinapa students who disappeared two years ago on Monday © © Amnesty International/ Sergio Ortiz Borbolla
A demonstration in London on Monday (26 September) will see 43 chairs set out in front of Mexican Embassy to represent an empty classroom and remember the missing students
Mexican President Enrique Peña Nieto's cynical response to the enforced disappearance of 43 students in the state of Guerrero two years ago illustrates the Mexican government's ongoing reckless approach to human rights, Amnesty International said today.
The students from the Raúl Isidro Burgos Rural Teacher Training College were forcibly disappeared on the night of 26 September 2014. They were arrested by municipal police while preparing to participate in a demonstration in Mexico City to commemorate an infamous massacre of students by the military and police on 2 October 1968.
Since then, the remains of only one of the students, 19-year-old Alexander Mora Venancio, have been identified. The fate and whereabouts of the other 42 remain unknown.
Erika Guevara-Rosas, Americas Director at Amnesty International, said:
"The Ayotzinapa tragedy has exposed how President Peña Nieto's administration will stop at nothing to cover up human rights violations taking place on their watch in Mexico.
"From failing to stop the attack against the students, to preventing international efforts to uncover the truth, to brushing off any complaints over the way this investigation has been handled, the authorities in Mexico have done all they can to obstruct justice and protect their image."
The Mexican authorities have claimed the students were kidnapped by a local criminal gang and their remains burned in a skip.
However, after a year-long forensic investigation, a group of experts appointed by the Inter-American Commission on Human Rights concluded that it was scientifically impossible for that number of bodies to have been burned in a skip in the conditions claimed by the authorities; a conclusion shared by other experts with access to the casefile. 
The missing students are among thousands — more than 28,000 at last count--who have disappeared in Mexico since 2006. Many were last seen in the custody of government agents, while others were kidnapped by gangs. Amnesty is calling for the Mexican authorities to carry out a proper investigation into these disappearances and to cooperate with the latest panel from the Inter-American Commission on Human Rights.
London protest
Monday is the second anniversary of the disappearances, and as university terms start in the UK, Amnesty supporters will place 43 empty chairs, laid out in two rows, in front of the Mexican Embassy to represent an empty classroom and remember the missing students. Amnesty activists will be holding placards reading "Encuentralos!", which means "Find them!" in Spanish, and calling on the government to investigate and bring the perpetrators to justice.
Where: Mexican Embassy, 16 St George Street W1S 1FD
When: Monday 26 September, 13.00-14.00