Media Awards: Amnesty announces its 2014 winners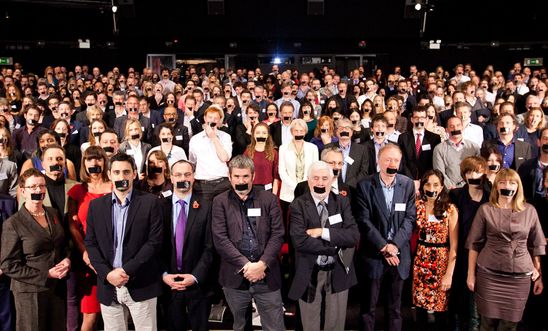 Amnesty International Media Awards 2014 pay tribute to imprisoned Al Jazeera staff © Kristian Buss / Amnesty International
More than 300 UK journalists pay tribute to imprisoned Al Jazeera trio 

BBC's Mike Thomson scoops his record-breaking fourth Amnesty Radio Award

Gael Garcia Bernal and Marc Silver win Best Documentary 
The Sunday Times, The Daily Record, GQ and The Guardian were just some of the winners at the prestigious Amnesty International Media Awards which took place at the British Film Institute in central London this evening (Tues 11 Nov).
There were wins for Pete Pattisson (The Guardian), Marcel Mettelsiefen (Channel 4), Paul O'Hare (Daily Record) and AA Gill (Sunday Times magazine). GQ's Ed Caesar scooped his third Amnesty Award while Marcus Bleasdale picked up his second for photojournalism.  BBC Radio 4's Mike Thomson won a record-breaking fourth Amnesty Award for his radio piece – Escape to Sinai – the most times any journalist has won an Amnesty Award for the same category.
Now in its 23rd year, the Awards ceremony was hosted by Channel 4 News' International Editor, Lindsey Hilsum.  Amnesty's coveted awards, this year covering the period March 2013 to July 2014, recognise excellence in human rights reporting and acknowledge journalism's significant contribution to public awareness and understanding of human rights issues.
Tribute was also paid to the more than 90 journalists killed because of their work this year, including American journalists James Foley and Steven Sotloff.
During the ceremony, Amnesty recognised the plight of the imprisoned Al Jazeera journalists, Mohamed Fahmy, Peter Greste and Baher Mohamed. Sue Turton – one of the three other journalists sentenced in absentia with the Al Jazeera Three – and Peter Greste's brother, Andrew – spoke about the situation facing the imprisoned three, and the threats facing journalists who cover conflicts and human rights issues.  This was followed by a moment of solidarity with the 400-strong audience taping their mouths as a form of silent protest.
Andrew Greste said:
"It is encouraging to know that journalists and organisations like Amnesty International have not forgotten my brother and his colleagues who are behind bars just for doing their job.  We will campaign tirelessly until we see Peter, Mohamed and Baher freed." 
Amnesty International UK Director Kate Allen said:
"In spite of the ever increasing level of danger and threat faced by journalists who seek to reveal the truth and expose human rights abuses, the quality of journalism and reportage we've seen at this year's Amnesty Media Awards is truly outstanding.

"Through intelligent, compassionate and dignified reporting, the winning journalists have revealed some of the worst atrocities of 2014, from war zones of Central African Republic and Syria, to the sewers of Bucharest and detention centres in the UK.

"It's so inspiring to see human rights journalism of this calibre. Well done to all those who produced the work and gave it their editorial backing. It's truly valuable work."
FULL LIST OF WINNERS
NATIONAL NEWSPAPERS
Revealed: Qatar's World Cup 'slaves' 
Pete Pattisson, The Guardian
JUDGES: Stig Abell, Ursula Kenny, Sophie McBain, David Munk, Niall Couper
NATIONS AND REGIONS
Colombia - caught in the crossfire
Paul O'Hare, Daily Record
JUDGES: Michael Beard, Mark Devenport, Joyce McMillan, Patrick Corrigan
STUDENT
Investigation: detainee harassment at Campsfield House
Redmond Traynor, The Oxford Student
JUDGES: Siobhan Sinnerton, Andrew Rawnsley, Dani Beckett
DIGITAL INNOVATION
The shirt on your back: the human cost of the Bangladeshi garment industry
Lindsay Poulton & Jason Burke, theguardian.com
JUDGES: Siraj Datoo, Anna Doble, Liz Hazelton, Jody Thompson, Anna Bacciarelli
DOCUMENTARY
Who is Dayani Cristal?
Directors: Marc Silver, Gael Garcia Bernal, Pulse Films
JUDGES: Ade Adepitan, Naresh Puri, Cathy Scott-Clark, Naomi Westland
GABY RADO MEMORIAL AWARD
Dispatches: Children on the frontline; Unreported World: Dancing in the danger zone
Marcel Mettelsiefen, Channel 4
JUDGES: Dermot Murnaghan, Xan Rice, Jonathan Rugman, Mike Thomson, Harriet Garland
MAGAZINES
Supplements
Displaced persons series
AA Gill, The Sunday Times Magazine
Consumer
Hell is other people
Ed Caesar, GQ
JUDGES: Bruno Bayley, Helen Joyce, Victoria Harper, Maggie Paterson 
PHOTOJOURNALISM
Descent into Hell: Bloodshed in the Central African Republic
Marcus Bleasdale, Telegraph magazine
JUDGES: Shannon Jenson, Roger Tooth, Paul Conroy, Maggie Paterson
RADIO 
Escape from Sinai
Mike Thomson, BBC Radio 4 / BBC World Service
JUDGES: Anita Anand, Andrew Bailey, Flora Hunter, Philippa Thomas, Eulette Ewart
TV NEWS
Bucharest's King of the Sewers
Paraic O'Brien, Channel 4 News
JUDGES: Ben de Pear, Simon Torkington, Anna Jones, Eulette Ewart