Malawi: Killings, abductions and abuse of people with albinism must stop - Albinism Awareness Day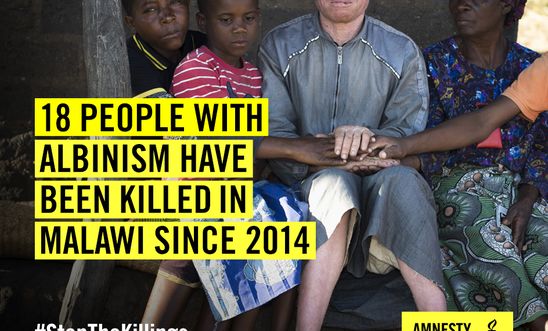 #stopthekillings - albinism in Malawi © Amnesty International
Nearly 50,000 people in UK sign petition for protection of people with albinism in last few weeks
Spokespeople available 
Malawian officials must live up to their promises to end the brutal violence against people with albinism and tackle discrimination against this group, Amnesty International said on International Albinism Awareness Day (13 June).
During a series of meetings with senior government officials last week, including Malawi President Arthur Peter Mutharika, Amnesty secured commitments to not only address the spate of killings of people with albinism but also to tackle the root causes of discrimination.
Since November 2014, at least 18 people have been killed and at least five have been abducted and remain missing.  Four deaths were recorded in April alone this year.  
The bones of people with albinism are believed to be sold to practitioners of traditional medicine in Malawi and Mozambique for use in charms and magical potions in the belief that they bring wealth and good luck. 
The macabre trade is also fuelled by a belief that bones of people with albinism contain gold.
Amnesty's Director for Southern Africa, Deprose Muchena, said: 
"Recognition by the Malawian authorities at the highest level that people with albinism not only experience daily discrimination but also live in constant fear of attacks is an important step in addressing the problem.

 

"Malawian police need more resources and must conduct thorough and effective investigations to bring the abductions and killings to an end. Visible policing in rural areas coupled with an effective public education campaigns can contribute significantly in arresting the problem."
At the June 7 meeting, the government of Malawi also welcomed Amnesty's recommendations to ensure safety for the vulnerable group in the country. These include the call for visible policing in rural districts as well as monitoring and recording attacks.
Background
Last week Tuesday (7 June) Amnesty launched its report on albinism in Malawi: "We are not animals to be hunted or sold": Violence and discrimination against people with albinism in Malawi, which revealed that at least 18 people with albinism had been killed since November 2014