Malawi: Killing spree of people with albinism fuelled by ritual practices and policing failures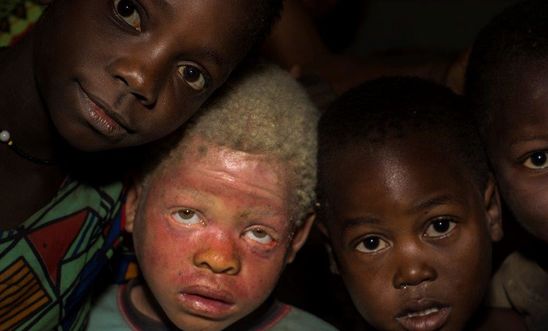 The twin brother of Harrison Mkoshoni who was abducted and killed in April 2016 © LAWILINK/Amnesty International
Four people killed in April this year

Women at risk of rape because of belief that sex with a person with albinism can cure HIV/AIDS 

Many die from skin cancer due to lack of resources such as sunscreen and preventative information
A surge in killings of people with albinism, whose body parts are used in ritual practices, has exposed a systematic failure of policing in Malawi and left this vulnerable group living in fear, Amnesty International reveals in a new report published today.
The report, "We are not animals to be hunted or sold": Violence and discrimination against people with albinism in Malawi, exposes how the wave of violent attacks against people with albinism have increased sharply over the last two years, with four people, including a baby, murdered in April alone.
Petition: Malawi, stop ritual murders of people with albinism
Since November 2014, at least 18 people have been killed and at least five have been abducted and remain missing. Their bones are believed to be sold to practitioners of traditional medicine in Malawi and Mozambique for use in charms and magical potions in the belief that they bring wealth and good luck. The macabre trade is also fuelled by a belief that bones of people with albinism contain gold. 
Amnesty believes that the actual number of people with albinism killed is likely to be much higher due to the fact that many secretive rituals in rural areas are never reported.  There is also no systematic documentation of crimes against people with albinism in Malawi.
Amnesty International's Southern Africa Director Deprose Muchena said: 
"The unprecedented wave of brutal attacks against people with albinism has created a climate of terror for this vulnerable group and their families who are living in a state of constant fear for their lives.
"Malawian authorities have dismally failed them, leaving this population group at the mercy of criminal gangs who hunt them down for their body parts."
Discrimination 
As well as extreme forms of violence, the report also finds that people with albinism in Malawi experience widespread societal discrimination including verbal abuse and exclusion from accessing basic public services.  
They are discriminated against in the education system and many die from skin cancer because of lack of access to preventative resources such as sunscreen and information about the condition.
Exclusion and abuse within their own villages and communities is also a problem for people with albinism who are called names and threatened. Women also face the danger of rape and sexual abuse as a result of beliefs that having sex with a person with albinism will cure HIV. One woman told Amnesty International: "Without being brave you may end up throwing away the child because of the abuse and insults."
Cases of killings
In April of this year, Amnesty recorded the killings of four people with albinism.
Whitney Chilumpha, who was less than two years old when she was snatched while sleeping with her mother in their home. Pieces of her skull, some teeth and clothing were found days later on a nearby hill. Five men, including Whitney's father, were arrested on suspicion that they had been involved in her murder.

On 30 April, Jenifer Namusyo, a 30-year-old woman, was found dead. She had been stabbed in the back, abdomen and elbow and her breasts and eyes had been removed. 

Also in April 17-year-old Davis Fletcher Machinjiri was abducted by a group of men who trafficked him to Mozambique where they killed him and chopped off both his arms and legs and removed the bones. 

The body of Enelesi Nkhata, a 21-year-old woman, was found by farmers buried in a shallow grave on 14 April 2016. She had been tricked by a relative into believing that he had found her a job in another district only to be stabbed in the chest and have her arms and legs cut off.  At least 10 men, including her relative, were arrested for her murder.
One woman told Amnesty: "Most people who attack [people with albinism] are close relatives...I met one mother in Chitipa who was hiding her children out of fear.  As a result, the children were not going to school."  
At least five people who were abducted are still missing. 
In January 2015, two-year-old Iblah Pilo was abducted. His mother woke up one night to the boy's cry but could not save him. His great aunt told Amnesty: "We are worried that we do not know where Iblah is or where to find his grave. We want the truth to come out. This child must be the last to go missing."
Even the dead are not left in peace with the Malawi Police Service recording at least 39 cases of illegal exhumation of the bodies of people with albinism or of people in possession of bones and other body parts taken from corpses. Amnesty is concerned that some of these cases may in fact be cases of actual killings rather than mere grave robberies.
Director of the Association of People with Albinism in Malawi, Boniface Massah said: 
"Malawians need to reflect on a fresh understanding of the hardships experienced by this vulnerable group and ensure that people with albinism are accepted,"
Systematic failure of policing
According to the Malawi Police Service, at least 69 crimes against people with albinism have been documented since November 2014. However Amnesty has found that the police lack adequate training and skills needed to investigate such crimes.
There are also concerns that some police officers carry the same prejudices against people with albinism that exists within the wider Malawian society and fail to take human rights abuses against people with albinism seriously.
The Director of Public Prosecutions admitted to Amnesty that the police prosecutors do not know all the relevant laws to deal with crimes against people with albinism. 
There has been one case where the public took the law into their own hands and resorted to mob violence against suspected perpetrators. In March 2016 a mob burnt to death seven men in the Nsanje district bordering Mozambique after being suspected of trafficking body parts of people with albinism.
Deprose Muchena added:
"The government of Malawi must stop pretending that this problem will just go away. Talking will not end these attacks. Concrete action is urgently required.

"Police have a duty to protect all people against crime. Failure to effectively investigate crimes against people with albinism promotes a climate of impunity, an environment where horrific killings can continue."
Amnesty is calling on the government of Malawi to adopt specific measures to protect the rights to life and security of people with albinism by providing increased levels of visible policing in rural districts and taking action when attacks against this population group occur.