London's Eastlea school students celebrating release of Nigerian prisoner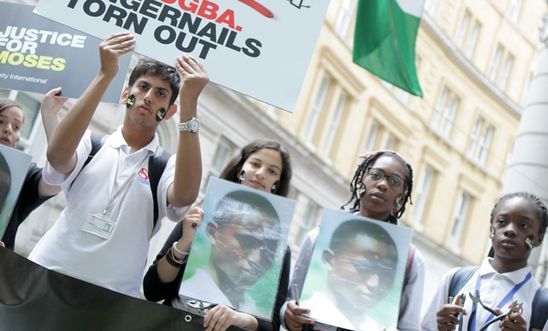 Eastlea students outside the Nigerian High Commission in London on 26 June 2014 © Amnesty International
Students demonstrated at Nigerian High Commission for 16-year-old Moses Akatugba's release after fingernails pulled out with pliers for theft of three mobile phones
Students at Eastlea Community School in Newham in east London are celebrating the release of a Nigerian man who spent over nine years in jail - including more than a year on death row - after originally being detained when he was just 16 years old.
Moses Akatugba, now 26, was arrested in 2005 for armed robbery and was tortured into signing a confession and sentenced to death. He was released on 2 June after the outgoing Governor of Nigeria's Delta State Emmanuel Uduaghan granted him a pardon. 
Akatugba has been the subject of a long-running campaign from Eastlea students who last year took part in a "pliers" demonstration outside the Nigerian High Commission in central London. 
Sixteen Eastlea students brandishing giant pliers placards (photos available) went to the Commission on 26 June 2014 - the UN International Day in Support of Victims of Torture - to highlight how Akatugba was tortured when he was originally detained on suspicion of stealing the mobile phones. Part of the torture reportedly endured by Moses was having his fingernails and toe-nails torn out with a pair of pliers. Eastlea students were confronted outside the Commission by officials who eventually agreed to receive an appeal from Amnesty about Akatugba's case.
Akatugba, said he felt "overwhelmed" when he heard the news of his pardon and he has thanked Amnesty supporters for their efforts (see below). Akatugba has been a key case in Amnesty's global Stop Torture campaign and in total more than 800,000 people worldwide had asked Governor Uduaghan to commute his death sentence. 
Akatugba told Amnesty that police officers beat him repeatedly with machetes and batons after his arrest, that they tied him and hung him up for several hours, and that they used pliers to pull out his toe-nails and fingernails. He was then forced to sign two pre-written "confessions". Akatugba has vowed to become a human rights activist following his release.
Chinye Jibunoh, who is the headteacher at Eastlea Community School, said:
"All of us at Eastlea are delighted by this news. However, it is only one victory out of millions around the world, and our students have shown the importance of making your voice heard and speaking up against injustice no matter where it may be."
Leilee Shirani, the leader of Eastlea's Amnesty group, said:
"We were so happy when we heard the news last week. The students had been really moved by Moses' case and were eager to try and help change the situation. To have been involved in the protests at the Nigerian embassy and having raised awareness of Moses' case at school and at our annual Write for Rights events has made this result so special to us as a group. It has shown the students that their efforts really can pay off and what they are doing is so important - they really can make the difference to individuals all around the world."
Umran Tuglu, a Year 8 Eastlea student, said:
"The news about Moses' release was extremely exciting. We had been working long and hard on his case (organising petitions and campaigning outside of the embassy) and hearing the news of his release was amazing. It shows our work is really heard and that we can make a difference."
Simona Doncheva, who is a Year 8 student at Eastlea, said:
"I feel extremely pleased about the release of Moses and am extremely happy to have been part of a campaign that has had such a great effect."
Moses Akatugba's statement
In a statement following Governor Uduaghan's announcement, Moses Akatugba said:
"I am overwhelmed. I thank Amnesty International and their activists for the great support that made me a conqueror in this situation. 

 

"Amnesty International members and activists are my heroes. I want to assure them that this great effort they have shown to me will not be in vain, by the special grace of God I will live up to their expectation. I promise to be a human rights activist - to fight for others." 
Moses also thanked the human rights activist Justine Ijeomah - who leads the Nigerian NGO Human Rights Social Development and Environmental Foundation - and Governor Uduaghan for "keeping to his word". Last October Governor Uduaghan responded to pressure from Amnesty supporters, saying he was looking into the case. He granted a pardon to Moses on his penultimate day in office. 
Amnesty International Africa Director Netsanet Belay said:
 

"Moses was just a boy when he was arrested and subjected to torture. 

 

"The pardon of Moses Akatugba, who should not have been sentenced to death in the first place because he was a minor at the time of the offence, is a victory for justice and a reminder that people power and human rights campaigning really can make a difference. 

 

"Without the thousands of letters sent in support of Moses by his supporters across the globe, he may never have been granted his freedom.

 

"Nigerian Governors should commute the death sentences of all death row prisoners in their respective states, including many who are at imminent risk of execution after similarly flawed criminal investigations." 
More than 1,500 on death row
Before leaving office on 29 May, Governor Uduaghan also commuted the death sentences of three other prisoners. As Nigeria's new president Muhammadu Buhari takes office, Amnesty is calling on him to immediately establish an official moratorium on executions with a view to abolishing the death penalty. More than 1,500 people are currently languishing on death row in Nigeria, including child offenders. In 2013, Nigeria resumed executions when four people were hanged despite a "voluntary" moratorium.