London: Vigil to mark anniversary of LGBTI crackdown in Chechnya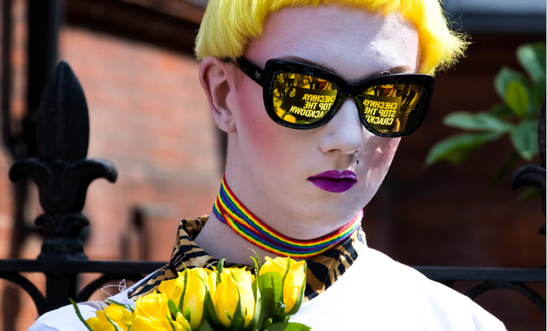 A protester outside the Russian Embassy in London © Jon Cornejo
Activists will hold a vigil outside the Russian Embassy in central London on Saturday 7 April to honour the lives lost and call on the Russian authorities to fully investigate disturbing reports of a crackdown on LGBTI people in Chechnya.
Last April, a report by Russian newspaper Novaya Gazeta revealed a horrifying 'gay purge' in Chechnya in which dozens of men were abducted, tortured and killed. To date, not one person has been held to account for these crimes.
Despite widespread international alarm at the reports, the Chechen and Russian authorities initially reacted with denials. A spokesman for the head of the Chechen Republic Ramzan Kadyrov even denied that LGBTI people exist in Chechnya, saying "nobody can detain or harass anyone who is simply not present in the republic".
One year on from the initial reports, activists wearing red t-shirts will gather outside the Russian Embassy (6-7 Kensington Palace Gardens, London W8 4QP) in a demonstration of solidarity with LGBTI people in Chechnya.
The event is being organised by All Out and is supported by Amnesty International UK. It is one of many vigils taking place around the world on Saturday.
Denis Krivosheev, Deputy Director for Eastern Europe and Central Asia at Amnesty International, said:
"A year ago, this shocking news from Chechnya was ridiculed and dismissed by the Russian government.
"Since then we have witnessed a shocking display of denial, evasion and inaction by the authorities, who have repeatedly refused to launch an official investigation into the reported heinous crimes and ignored credible evidence provided by Novaya Gazeta and others.
"Victims of such crimes have generally had to rely on Russia's human rights community, who have provided support and safety to individuals hunted down in Chechnya and ignored by the authorities elsewhere in Russia.
"The tireless work of human rights defenders, including from the Russian LGBT Network, has resulted in 116 people being safely relocated from Chechnya, 98 of whom have left Russia."
Amnesty is again calling on the Russian authorities to promptly and effectively investigate the reports of abduction, secret detention, torture and killing of men believed to be gay in the Chechen Republic.