London exhibition of death row art by Australian facing imminent execution in Indonesia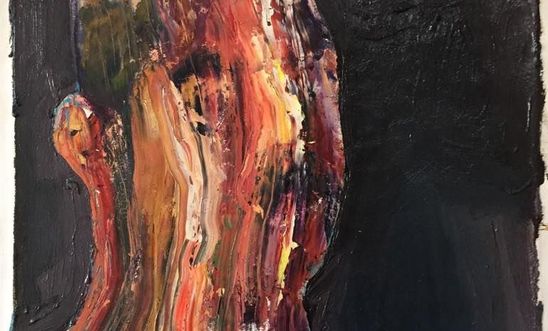 © Myuran Sukumaran
London cousin of death row inmate organises UK exclusive exhibition of his death row paintings ahead of his 34th birthday next week
An exhibition of the artwork of Myuran Sukumaran, an Australian man being held on death row in Indonesia and facing imminent execution, is to be held at Amnesty International's London headquarters, in Shoreditch from Monday (13 April).
Myuran Sukumaran, known as "Myu" painted all the artworks during his 10 years on death row. The haunting oil paintings show the evolution of his artistic skill as well as the emotional torture he has experienced living under a sentence of death for a decade. His London-based cousin, Niranjela Karunatilake, has organised the exhibition, entitled From Death Row - A solo Exhibition by Myuran Sukumaran, to draw attention to his case, and to mark his 34th birthday on Friday 17 April. Last Monday, an Indonesian court rejected a final appeal from the Australian against his planned execution.
Mr Sukumaran, who was himself born in London, was convicted for his role in a failed heroin-smuggling plot in 2005, as part of a group known as the "Bali Nine". He has now been moved to Indonesia's notorious "execution island" where he is due to be executed by firing squad.
In Indonesia, a condemned prisoner has the "choice" of standing or sitting and whether to have their eyes covered by a blindfold or by a hood. Firing squads are made up of 12 people, three of whose rifles are loaded with live ammunition, while the other nine rifles contain blanks. The squad fires from a distance of between five and ten metres.
The works on display are mostly oil portraits on canvas inspired by his mentor, award-winning Australian artist Ben Quilty. The works get markedly darker in recent weeks, since Sukumaran's appeal was rejected. They include a painting of a single bullet, and a series of self-portraits where Sukumaran's face gradually smears away until it is unrecognisable.
A number of Sukumaran's cousins around the world are similarly holding exhibitions of his work over the coming weeks including in Toronto, Sydney and Amsterdam. They hope to draw attention to his rehabilitation and to appeal to Indonesian president Joko Widodo, who has so far rejected all clemency appeals. The Indonesian president has declared that he will refuse clemency for all people sentenced to death for drug-related crimes. Six people have already been executed this year.
Niranjela Karunatilake, Myuran Sukumaran's cousin who works as a producer in London, has organised the London portion of the global exhibition. She last visited her cousin on death row in February.
Niranjela Karunatilake said:
"Myu is a talented artist and I have seen his skill develop over the past four years; you can see him finding himself in his paintings.

"It's clear painting has been a vital comfort for him on death row.

"Myu will be 34 on Friday and it's just too sad to think that could be his last birthday.

"The death penalty is never the answer and I don't believe it deters crime, but in Myu's case, when he has done so much to repent and improve prison conditions, it would be a real tragedy if his life was cut short.

"We are not asking for Myu to be freed, all we ask is for mercy, that he keeps his life and continues his positive impact on the Indonesian prison system and other inmates.

"The last ten years have been so painful for him and his parents and brother and sister, but he is the most resilient person I know. He has proved himself to be incredibly kind and compassionate. He deserves that same compassion in return.

"I hope people will come to see the exhibition next week, and think of Myu and let Indonesia know that there are people all over the world calling for mercy."
Prison reformer
Myuran Sukumaran and another Australian he was convicted alongside, Andrew Chan, have famously reformed the prison in which they were held. Both men have learnt fluent Indonesian and have initiated various classes so that they and their fellow prisoners can learn new skills. Sukumaran and Chan's fellow inmates and the jail's chief warden have praised the transformational effect the two have had on the prison, including reducing drug use by helping inmates with addiction issues. Myu and Andrew helped by providing support, counselling and positive rehabilitation activities.
Sukumaran has taught English, computer studies, graphic design and philosophy classes to prisoners and has been instrumental in opening up a computer and art room. In February, Curtin University in the Australian city of Perth awarded Sukumaran an Associate Degree in Fine Arts. He has studied under renowned Australian artist Ben Quilty who Myu started writing to asking for advice on painting, since then Ben has visited him in prison repeatedly, helping Myu find his love for art and the two have struck up a close friendship. It is with the support of Ben, that Myu has become a talented artist in his own right.
Notes
The exhibition will be held at Amnesty International's Human Rights Action Centre, 17 - 25 New Inn Yard, London, EC2A 3EA from Monday 13 - Friday 17 April. Admission is between 9.30 am – 6 pm daily and is free of charge. There will be a special press viewing on the evening of Thursday 16 April, the eve of Myuran's 34th birthday.
Amnesty is calling on the Indonesian President to halt the executions