Libya: fears that yesterday's killing of human rights lawyer Salwa Bugaighis was targeted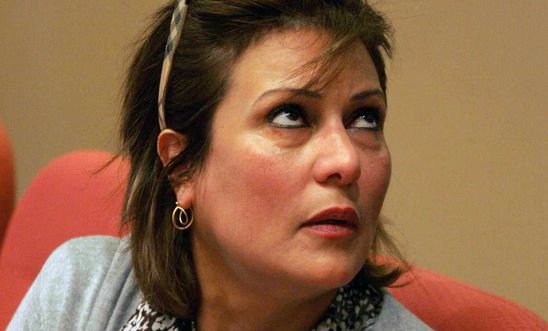 Salwa Bugaighis, in May 2011 © AFP/Getty Images
'We believe that Salwa Bugaighis may have been targeted for both her political activism and her role in promoting women's rights' - Hassiba Hadj Sahraoui
The Libyan authorities must ensure that yesterday's killing of Salwa Bugaighis in Benghazi is properly investigated and that those responsible brought to justice, Amnesty International said, amid fears that the leading human rights lawyer may have been targeted for her activism.
Bugaighis, a lawyer who played a prominent role in organising protests at the start of the uprising that overthrew Mu'ammar al-Gaddafi in 2011, was shot dead at her home in Benghazi by unknown assailants on the same day that Libyans voted for a new parliament.
She was shot several times in the chest, stomach and head and died shortly after being taken to hospital, according to a spokesman for the Benghazi Medical Centre. Bugaighis' husband, Essam al-Ghariani, an elected member of the Benghazi municipal council, has been reported missing, and there are fears that he was abducted during the attack. Hours before her death, Bugaighis gave a phone interview to Libya's al-Nabaa TV in which she spoke of heavy fighting and shelling between army units and Islamist armed elements in a residential area near the compound of the Rafallah Sehati Brigade, an Islamist militia. 
Friends of Bugaighis told Amnesty that she had received a number of threats prior to her killing in relation to her public appearances and political positions. 
Amnesty International's Middle East and North Africa Deputy Director Hassiba Hadj Sahraoui said:
 

"We believe that Salwa Bugaighis may have been targeted for both her political activism and her role in promoting women's rights.

 

"The Libyan authorities must do everything possible to ensure that Salwa Bugaighis' death is fully, independently and impartially investigated and that anyone responsible is held to account - something they have patently failed to do in previous political killings."
Prominent activist
Bugaighis was an advocate for gender equality and women's political participation in Libya, and was a founding member of Libya's National Transitional Council, which governed the country after Gaddafi was ousted. In recent months, she worked as a member of the Preparatory Committee for National Dialogue. 
She accused some groups of undermining parliamentary elections and stressed the importance of the voting process, calling for a protection of polling stations.   
Attacks against women in Libya
The killing of Bugaighis, the first of a female activist in post-conflict Libya, comes as attacks and threats against women who speak out against extremist groups are intensifying.  Female journalists and human rights activists have been increasingly harassed, intimidated and attacked by Islamist-leaning militias, armed groups and others amid a climate of pervasive lawlessness. 
Women who behave differently from the social norm - such as by not wearing a veil or dressing in a way deemed inappropriate - have been especially targeted, with many reporting having received threats, including death threats, via text messages or social media. Deliberate killings and other attacks on activists, judges and security officers have been a routine feature of life in Benghazi since the toppling Gaddafi.