Libya: fears mount for politician abducted after speaking out over Haftar's offensive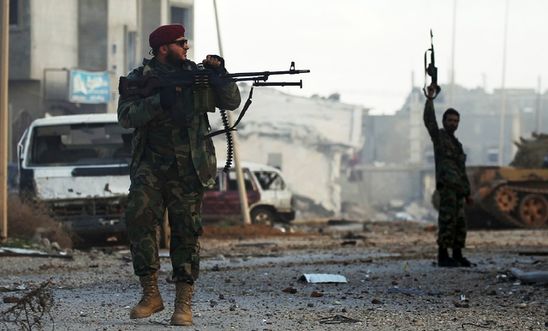 Members of the 'Libyan National Army', Gen Haftar's forces, are implicated in Siham Sergiwa's abduction © AFP/Getty Images
Member of parliament Siham Sergiwa is the latest prominent woman in the country to be targeted
Masked gunmen raided her home on 17 July, shooting her husband in the leg and beating her teenage son
'Women in public roles who dare to speak out against lawlessness and militias today, can be silenced at any cost' - Magdalena Mughrabi
Fears are mounting for the safety of Siham Sergiwa - a Libyan member of parliament who criticised General Haftar's military offensive on Tripoli - who was abducted by armed gunmen in a night-time raid on her home in Benghazi a month ago.
Dozens of masked gunmen in military clothing stormed Sergiwa's home and seized her in the early hours of 17 July. Her husband, Ali, was shot in the leg and her 16-year-old son, Fadi, was badly beaten during the raid. 
Although the identity of her abductors is yet to be fully established, witness testimony indicates the attackers were affiliated with the self-declared Libyan National Army, led by General Khalifa Haftar. Earlier that day, Sergiwa had given a TV interview criticising Haftar's forces' offensive to capture Tripoli. 
One family member described to Amnesty how on the night of the abduction street-lights in the whole area were cut off shortly before they heard screaming. The family member said: 
"They came inside the house and told us to get down. They shot dad in the leg and beat him. I tried to stop them and they hit me, too."
Another eyewitness said the attackers spoke in a Benghazi accent and arrived in cars with "military police" written on the sides. After the attack, the message "The army is a red line" and "Avengers of Blood" was graffitied on a wall in the house, prompting eyewitnesses to believe that Sergiwa was abducted by Awliya al-Dam, an armed brigade affiliated with the Libyan National Army.
Following the attack, Sergiwa's husband and son were taken to the Benghazi Medical Centre to receive treatment for their injuries. Her husband is still in hospital and, according to the family, has not been allowed visitors. 
A few hours before the abduction, Siham Sergiwa had been interviewed by Al Hadath TV, during which she criticised General Haftar's military campaign to seize Tripoli. 
Magdalena Mughrabi, Amnesty International's Middle East Deputy Director, said: 
"The horrific abduction of Siham Sergiwa illustrates the acute dangers facing publicly-active women in Libya who dare to express criticism of militias. 

"Women in public roles who dare to speak out against lawlessness and militias today, can be silenced at any cost.

"Siham Sergiwa's abduction demonstrates the tragic consequences of the Libyan authorities' failure to protect activists and vocal critics from brutal retaliatory attacks. 
 
"The Libyan National Army, which controls Benghazi, must ensure Siham Sergiwa's immediate and unconditional release, and refrain from any attacks against civilians."
Series of prominent women targeted 
Siham Sergiwa is the latest prominent Libyan woman to have been targeted following a series of killings, abductions and death threats since 2014.  At least three female activists and politicians have been killed in this time in connection with their work: member of parliament Fariha al-Barkawi; prominent human rights defender Salwa Bugaighis; and activist Entisar El Hassari. 
Women in Libya who do not adhere to social norms or seek to challenge gender stereotypes are particular targets of such crimes. One journalist and government spokeswoman - whose case was documented by Amnesty - was abducted by militias in Tripoli twice, and faced physical assault and relentless intimidation between 2012 and 2017 for her investigative reporting into corruption and human rights abuses.
The UN Support Mission in Libya (UNSMIL) has also documented the relentless threats, harassment and dangers faced by women in public roles in Libya.