Libya: Authorities in Derna must lift restrictions on journalists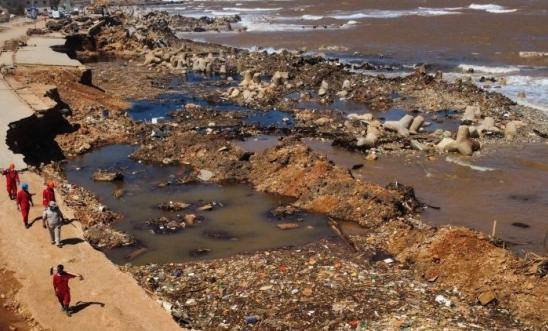 © Mahmud Turkia/AFP via Getty Images
Libyan Arab Armed Forces have prevented journalists from operating freely and have arrested protesters
One journalist was disappeared for three days after live-broadcasting from devastated city calling for accountability
'The Libyan Arab Armed Forces are resorting once again to their well-honed machinery of repression' - Diana Eltahawy
The Libyan Arab Armed Forces, an armed group in control of eastern Libya, must immediately lift all undue restrictions imposed on journalists and facilitate the delivery of humanitarian aid to affected communities in the flood-ravaged city of Derna, said Amnesty International today.
On Monday, the Libyan Arab Armed Forces increased restrictions on journalists after thousands of people took to the streets in Derna to demand accountability for the devastating loss of life in catastrophic flooding after two dams in the city burst on 11 September.
Protesters called for support for reconstruction and rehabilitation efforts, and for the resignations of local and national politicians. Witnesses told Amnesty that protesters and other critics of the authorities were arrested.
Despite difficulty in obtaining information about the situation in Derna caused by major disruptions to internet and phone networks, Amnesty spoke to local residents, journalists, humanitarian workers, civil society activists and doctors involved in the emergency response.
Fears that the Libyan Arab Armed Forces were responding to the crisis by cracking down on critics have grown after the arrest of a content creator, Jamal El Gomati, who was reporting live from Derna hours after the floods and who publicly accused officials of corruption and responsibility for the disaster.
Human rights activists told Amnesty that armed men in plainclothes - believed to be from the Libyan Arab Armed Forces-affiliated Internal Security Agency - seized El Gomati from his hometown of Shahhat, in northeastern Libya on 17 September. He was forcibly disappeared for three days before being released following interventions by a prominent Libyan Arab Armed Forces commander.
From the onset of the crisis, journalists reported the need for security clearance and other access restrictions and interference in their work by Libyan Arab Armed Forces affiliates. Two Libyan journalists told Amnesty that local officials stopped and interrogated them on 14 September, before ordering them to leave the city. On 16 September, an activist from Derna was arrested after he gave an interview about the situation in the city to a channel perceived as opposed to the Libyan Arab Armed Forces, according to relatives. After protests in Derna on 18 September, the Libyan Arab Armed Forces ordered journalists to leave the city, reversing their decision the next day but instructing remaining journalists not to approach rescue teams. Journalists consistently reported being followed by the Libyan Arab Armed Forces military media agents and witnessed interpreters being asked by officials not to translate content critical of the authorities.
On 19 September, UN spokesperson told media that a UN team was "not authorised to proceed" to Derna, while confirming that rescuers and humanitarian workers present in the city were allowed to continue operating. Amnesty has also received reports of delays in aid reaching affected areas, in part due to numerous Libyan Arab Armed Forces checkpoints.
Amnesty has called for rescue and rehabilitation efforts to be undertaken in all affected communities without discrimination, paying special attention to at-risk groups, including refugees, migrants, internally-displaced persons, and others facing multiple and intersectional forms of discrimination.
Diana Eltahawy, Amnesty International's Middle East and North Africa Deputy Director, said:
"Instead of focusing on facilitating humanitarian access to all affected communities, the Libyan Arab Armed Forces are resorting once again to their well-honed machinery of repression to silence criticism and evade responsibility.

"The Libyan authorities and those in control of affected areas must refrain from reprisals against critics. During times of crisis, a vibrant civil society and independent media are vital to secure survivors' rights to life, safe housing, food, health and access to information.

"In the absence of any meaningful prospects for accountability at the national level, there is an urgent need to establish the facts and circumstances surrounding the staggering loss of life and destruction in the wake of Storm Daniel. This includes examining whether the Libyan authorities and those in control of affected areas, failed to protect the population's rights to life, health and other human rights."
Calls for accountability
Calls for accountability are growing among survivors and human rights defenders in the aftermath of the floods following years of poor governance and mismanagement by rival governments. While the Tripoli-based Public Prosecutor has visited Derna and announced investigations, the prevailing climate of impunity in Libya raises serious concerns around the Libyan justice system's ability and willingness to deliver truth and justice. 
Since the armed conflict in the country in 2011, powerful commanders and members of militias and armed groups suspected of committing crimes under international law have enjoyed total impunity and have also been integrated into state institutions and received state funding. 
The Libyan Arab Armed Forces
The Libyan Arab Armed Forces control and carry out government-like functions in Benghazi, Libya's second-largest city, as well as large swathes of eastern and southern Libya. The armed group's brutal tactics to stifle dissent, restrict independent civil society and maintain an iron grip on power are well documented. Among other things, the Libyan Arab Armed Forces and their affiliated armed groups and security forces prevented hundreds of Tawerghans from returning to a Benghazi displaced-persons camp, where they had lived for years and from where they were evacuated on 10 September ahead of the recent catastrophic storm. According to activists, other residents were allowed to return to their homes in the same area.