Letter to Michael Fallon over Government's 'wildly implausible claims' on UK cluster munitions in Yemen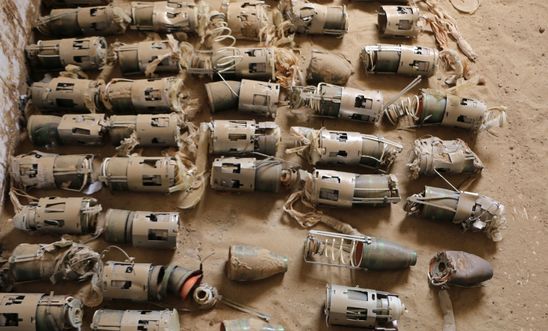 Some of the deadly 'bomblets' from a UK cluster bomb dropped on farmland in northern Yemen © Amnesty International
'It's shocking that the Saudi coalition has dropped a British cluster bomb on villagers in Yemen, and no less shocking that ministers are doing so little about it' - Allan Hogarth
Letter comes ahead of petition to Downing Street, and parliamentary meeting and debate 
Amnesty International has written to Defence Secretary Michael Fallon seeking urgent clarification over what it says is "a smokescreen of wildly implausible claims" from the Minister for Defence Procurement Philip Dunne over whether the Saudi Arabia-led military coalition used a UK-made cluster bomb in its attacks on villages in Yemen.
Amnesty's letter comes in the wake of comments Mr Dunne made in the House of Commons on 24 May in response to new Amnesty evidence that a British-manufactured "BL-755" cluster bomb was used by the Saudi Arabia-led coalition in an attack on al-Khadhra village in Yemen's Hajjah governorate, six miles from the Saudi Arabia border.
The weapon, now banned by the UK and over 100 other countries, was originally manufactured in the 1970s by the Bedfordshire company Hunting Engineering Ltd, just one of a large quantity of cluster bombs previously sold by the UK to countries like Saudi Arabia and the UAE (also a member of the Saudi Arabia-led coalition conducting attacks in Yemen).
Responding to a parliamentary "Urgent Question" on Amnesty's findings, UK ministers - including Mr Dunne and the Foreign Secretary Philip Hammond - sought to cast doubt on the evidence, including by suggesting that the BL-755 weapon may have been used in an earlier conflict in Yemen. Mr Dunne told the Commons there have been several conflicts in the Yemen-Saudi Arabia border area over the past decade, saying "it is unclear from the evidence provided thus far that the munitions came from the current conflict." Mr Dunne also said "we assess that no UK-supplied cluster weapons have been used."
However, as Amnesty had made clear the day before Mr Dunne's Commons remarks, the evidence gathered on the UK cluster bomb's use in al-Khadhra village involved an examination of photographs of the weapon at the scene of its use, a personal inspection of the partially-exploded BL-755 in a de-mining warehouse, and interviews with local eyewitnesses and de-mining experts. 
Arms experts consulted by Amnesty have made it clear that their assessment of the available evidence strongly indicates that the cluster bomb had been deployed relatively recently (within the last few months). Meanwhile, to the best of Amnesty's knowledge there is absolutely no evidence to support ministers' suggestions that the BL-755 (an air-launched weapon) could have derived from an earlier conflict - indeed no airstrikes by Saudi Arabian forces (or any of the current coalition's forces) are known to have occurred in Hajjah governorate in a previous conflict. Meanwhile, metadata on photographs taken by a Yemeni farm owner's son and nephew (in whose fields the cluster bomb was found) show they are from 18 and 19 January 2016, and the images themselves clearly show a recently-fired cluster bomb lying in the farmer's field, with deadly unexploded cluster submunition "bomblets" widely strewn around the area. 
The bomb crater and munitions were first seen at the site by a farmer worker in late December/early January, with the same witness reporting that they were not there in October 2015. The farm worker has explained that there was heavy fighting around the location during December ("planes were hovering and machine guns could be heard"), including a strike near the farm followed by further detonations (like "fireworks"). The farm owner's nephew has also told Amnesty of how he alerted the mine-clearance organisation the Yemen Executive Mine Action Center to the presence of the munitions at the site in February, with the mine-clearance organisation confirming that a team of eight people spent two days clearing some 48 unexploded submunitions from the area in April. (For further details, go
here
).
Amnesty's recent research into the Saudi Arabia-led military coalition's use of cluster bombs in Sa'da, Hajjah, and Sanaa governorates near the Yemen-Saudi Arabia border has revealed that at least 16 civilians - including nine children – were killed or maimed by the weapons between July 2015 and last month. Victims include a boy of eight killed while herding goats near a village in al-Safra directorate in Sa'da on 1 March, and his 11-year-old brother who was seriously injured in the same blast. 
Apart from the BL-755, Amnesty also documented evidence of US and Brazilian cluster munitions which had been used by the Saudi Arabia-led coalition's forces in northern Yemen. When asked about this on 24 May, the Foreign Secretary Philip Hammond said "There is no evidence yet that Saudi Arabia has used cluster munitions" - this despite the fact that Saudi Arabia had itself previously publicly admitted its forces had used cluster bombs against "armoured vehicles". Two days later, on 26 May, the Defence Secretary Michael Fallon apparently corrected the Foreign Secretary's remarks, saying that the UK is "aware that Saudi Arabia has used cluster munitions in the current conflict in Yemen, as the Saudis have themselves publicly confirmed." However, Mr Fallon again repeated the UK Government's position - despite clear evidence to the contrary - that "we assess that no UK-supplied cluster weapons have been used."
Amnesty International UK's Head of Policy and Government Affairs Allan Hogarth said:  
 

"It's shocking that the Saudi coalition has dropped a British cluster bomb on villagers in Yemen, and no less shocking that ministers are doing so little about it.

 

"Instead of immediately halting all sales of arms to a Saudi coalition that obviously cares little for civilian life in Yemen, ministers have hidden behind a smokescreen of wildly implausible claims.

 

"Ministers are behaving disgracefully and Yemeni villagers have been killed or maimed in the meantime. 

 

"It's an absolute scandal and it all goes back to the fact that UK Government just won't stop selling arms to Saudi Arabia and other rich countries in the Gulf."
Thousands of civilians dead or injured in indiscriminate attacks 
In addition to civilian casualties from cluster munitions, thousands of Yemeni civilians have been killed or injured during more than a year of often reckless and indiscriminate aerial attacks from forces operating as part of the Saudi Arabia-led military coalition. Houses, schools, wedding parties, hospitals and refugee camps have all been hit. In January a UN report found there had been at least 119 coalition attacks (many with multiple airstrikes) in clear breach of the laws of war. Meanwhile in December, a detailed legal analysis by a group of international legal experts commissioned by Amnesty and Saferworld assessed that the UK Government was breaking its own - and international - laws by supplying weapons to Saudi Arabia in the context of its military intervention and bombing campaign in Yemen. 
Petition and parliamentary events
The All-Party Parliamentary Human Rights Group will host a special meeting with Amnesty International's Yemen Researcher Rasha Mohamed on Tuesday 7 June (10-11am, Committee Room 21) to further explain the circumstances and significance of the discovery of the UK cluster bomb in Yemen. 
This will be followed (12 noon) by the hand-in to Downing Street of a new 21,000-strong petition (gathered in two weeks) calling for the UK Government to halt all arms exports to Saudi Arabia and other members of its military coalition in Yemen, while launching an inquiry into how UK-made cluster munitions have been used in the current Yemen conflict. 
Meanwhile, on Wednesday 8 June (9.30-11am), there will be a parliamentary
debate
into the question of human rights and the sale of arms to Saudi Arabia.