Latest Mediterranean shipwreck underscores need for safe and legal routes to Europe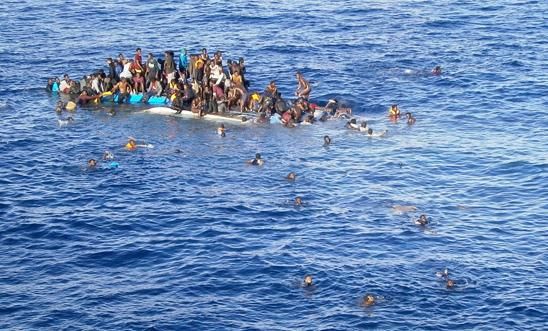 An earlier capsizing in the treacherous waters of the Mediterranean © EPA
European governments must do more to provide safe and legal ways for people in need of protection to enter the European Union rather than risking their lives at sea in their thousands, Amnesty International said as a search continues after the latest migrant boat capsizing in the Mediterranean earlier today.
Around 200 people are feared lost at sea after a fishing boat, which carried an estimated 600 people, capsized off the Libyan port of Zuwara. More than 400 people have been rescued and 25 bodies have been retrieved so far. Rescue operations, carried out with the participation of vessels from various countries as well as NGOs Médecins Sans Frontières and Migrant Offshore Aid Station, are ongoing and will continue overnight. 
Amnesty International Europe and Central Asia Deputy Director Denis Krivosheev said:
"Today's fatal incident emphasises how European governments must immediately put in place safe and legal routes for those in need of protection to reduce the numbers of people embarking on perilous sea journeys.

"People are still crossing the central Mediterranean in their thousands almost every week to seek safety and better lives in Europe, so fatal incidents at sea are going to remain a tragic reality.

"As long as refugees and migrants only have access to Europe through dangerous journeys, it is imperative that efforts to save lives at sea are given top priority. Humanitarian operations launched by European governments in the aftermath of the April shipwrecks, when more than 1,200 people died or disappeared at sea, must continue to be properly resourced and implemented."
Today's is the first incident of this magnitude since EU governments agreed to scale up search-and-rescue operations in late April, which curtailed an unprecedented surge in deaths at sea in the early months of 2015. Amnesty is calling for increased pledges to resettle refugees, expanded access to Europe through humanitarian visas and family reunification, and an easing of restrictions on freedom of movement of successful asylum-seekers. 
Today's incident comes a day after the International Organisation for Migration announced that 2,000 migrants and asylum-seekers had already perished in the Mediterranean this year. Around 98,000 refugees and migrants have meanwhile crossed the central Mediterranean and arrived in Italy so far this year.