Journalists, film-makers, producers and editors invited to enter Amnesty's human rights Awards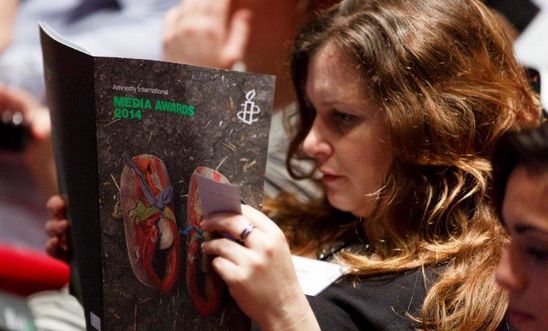 Guest at Media Awards 2014 ceremony © Tristan Fewings Getty / Amnesty
Amnesty International is inviting entries for its 24th annual Media Awards, a prestigious set of awards which recognises the vital role journalists play and the serious risks they face in highlighting injustice around the world.
Previous winners have included Pete Pattisson (The Guardian), Ronke Phillips (ITV) AA Gill (The Sunday Times Magazine) and Paraic O'Brien (Channel 4 News). 
Entries - which must have been published or broadcast for the first time in the UK between 1 August 2014 and 31 July 2015 - are invited in the following categories:
Digital -- websites, apps or interactive online news or feature-based reporting 
Documentary – programmes given a UK TV or theatrical screening

Features – magazine or newspaper content that creatively explores topics, issues or stories relating to human rights.
Newspaper - A news article published in a UK national newspaper 
Nations and Regions - Print, online or broadcast entries from Scotland, Wales, Northern Ireland and the English regions
Photojournalism – for images published in the UK
Radio - One news item, podcast, or programme broadcast to a UK audience 
Student Journalism – run in collaboration with the National Union of Students and The Observer
Television News – One news item, broadcast to a UK audience
The Gaby Rado Award for Best New Journalist – for journalists who have been working in broadcast, online or print media for five years or less.
To encourage a wide range of entries, we have established a sponsorship fund to support a limited number of entries from freelance journalists and filmmakers, as well as small digital and broadcast outlets.
The closing date is Friday 1 August 2015. 
Free entry into the Nations & Regions category.
Entries should be made online at www.amnesty.org.uk/mediaawards
Winners will be announced on 26 November at Milton Court, Barbican.