Jamal Khashoggi: urgent United Nations investigation needed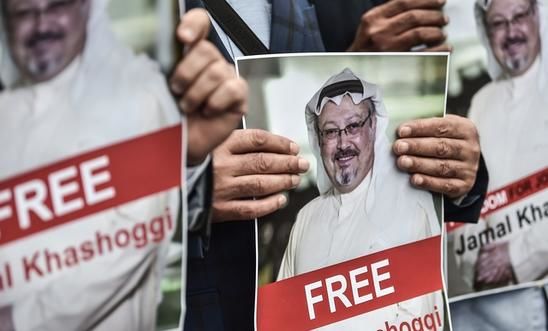 The suspected killing of respected journalist Jamal Khashoggi has sparked concerns around the world © OZAN KOSE/AFP/Getty Images
'Without a credible UN inquiry, there will always be a cloud of suspicion hanging over Saudi Arabia' - Sherine Tadros 
Turkey should urgently ask UN Secretary General Antonio Guterres to establish a United Nations investigation into the possible extrajudicial execution of the Saudi journalist Jamal Khashoggi, Amnesty International, the Committee to Protect Journalists (CPJ), Human Rights Watch (HRW) and Reporters Without Borders (RSF) said today. 
The investigation should determine the circumstances surrounding Saudi Arabia's role in the enforced disappearance and possible killing of Mr Khashoggi, identifying everyone responsible for ordering, planning and executing any operations connected with the case.
The four organisations said that Mr Guterres should appoint a senior criminal investigator with extensive experience in international investigations to head the team. Once the investigation is concluded, the secretary general should issue a public report on the overall findings along with his recommendations.
The UN team should be allowed full access to any investigation sites and allowed to interview potential witnesses or suspects without interference. To facilitate this, Saudi Arabia should immediately waive diplomatic protections such as the inviolability or immunity of all relevant premises and officials bestowed by treaties like the 1963 Vienna Convention on Consular Relations. Michelle Bachelet, the UN high commissioner for human rights, has already called for this.
Amnesty, the CPJ, HRW and RSF are also insisting that Turkey should turn over all evidence in its possession, including audio and visual records that Turkish officials have claimed reveal Khashoggi's murder in the Saudi consulate. All UN evidence should be preserved for use in future prosecutions, and UN investigators should also recommend avenues for bringing to justice anyone against whom credible evidence of involvement is found.
An UN investigation into the Khashoggi case should start promptly and be thorough, impartial, and independent. The four organisations believe that the newly-formed Turkish-Saudi working group investigating the murder will be unable to make progress in the face of Saudi Arabia's blanket denials of any involvement in Khashoggi's enforced disappearance.
There is a precedent for such a UN investigation. In 2008, Pakistan asked former UN head Ban Ki-moon to establish an investigation into the assassination of former prime minister Benazir Bhutto, and the subsequent investigation uncovered what investigators said was an attempt by the Pakistani authorities to whitewash the events surrounding Bhutto's murder.
Sherine Tadros, head of Amnesty International's New York office, said:
"If the government of Saudi Arabia is not involved in Jamal Khashoggi's fate, it has the most to gain in seeing an impartial UN investigation determine what happened. 

"Without a credible UN inquiry, there will always be a cloud of suspicion hanging over Saudi Arabia, no matter what its leadership says to explain away how Khashoggi vanished."
Louis Charbonneau, Human Rights Watch's UN Director, said:
"Jamal Khashoggi's family and the rest of the world deserve the full truth about what happened to him. Partial explanations and one-sided investigations by Saudi Arabia, which is suspected of involvement, aren't good enough."
Robert Mahoney, Committee to Protect Journalists' Deputy Executive Director, said:
"UN involvement is the best guarantee against a Saudi whitewash or attempts by other governments to sweep the issue under the carpet to preserve lucrative business ties with Riyadh."
Christophe Deloire, Reporters Without Borders' Secretary General, said:
"If the UN is truly mobilised to fight impunity for crimes against journalists, then at the very least they must be fully engaged in one of the most shocking and extreme cases in recent years by undertaking this investigation."
Crackdown in Saudi Arabia
The disappearance of Jamal Khashoggi comes in the midst of a serious crackdown on human rights defenders and dissidents in Saudi Arabia. Since September 2017, when the authorities launched a wave of arrests targeting activists, writers and religious clerics, Amnesty has been able to verify 20 arrests. Some of those detained are now facing trial before the country's infamous counter-terrorism court. 
Meanwhile, in May this year there was a fresh intensification of the crackdown, with at least 12 women's rights activists detained, including the prominent "right to drive" campaigner Loujain al-Hathloul. These continue to be detained without charge and may face lengthy prison terms following trials before the country's notorious counter-terrorism court.
In the past two months, several more people have been detained for peacefully exercising their rights to freedom of expression, association and assembly, and may now face a death penalty following the public prosecution's call for the death penalty in their first trial session. This includes reformist cleric Sheikh Salman al-Awda and women's rights activist from Saudi Arabia's Shi'a minority, Israa al-Ghomgham.