Jailed Iranian artist Atena Farghadani says she was subjected to abusive 'virginity test' - newly-revealed letter from jail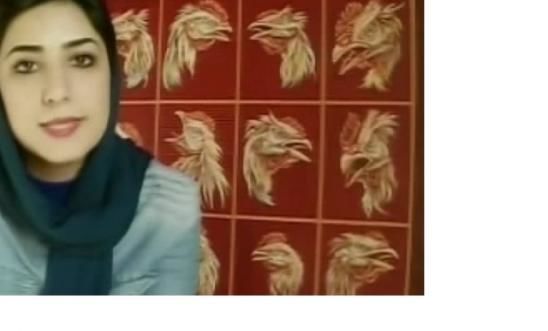 Atena Farghadani has criticised a bill that would outlaw voluntary sterilisations in Iran © Private
Letter from jail details abuse ahead of her 'shaking hands with lawyer' trial
An Iranian woman jailed for her satirical cartoon work has said she was recently subjected to an abusive ""virginity and pregnancy test" as part of what seems to an ongoing campaign by prison authorities to humiliate and punish her.
The cartoonist Atena Farghadani, who in June was
sentenced to twelve-and-a-half years in jail
for her peaceful activism - including meeting families of political prisoners and drawing a satirical cartoon depicting Iranian legislators as monkeys and cows - has been able to send a note (seen by Amnesty International) out of her prison describing the mistreatment.
Farghadani says she was made to undergo the "virginity test" prior to her recent - additional - trial on a charge of "illegitimate sexual relations" for shaking hands with her lawyer, a charge that Amnesty has labelled "absurd". She says the judicial authorities took her to a medical centre outside the prison on 12 August and forced her to submit to the tests, supposedly so as to be able to investigate the charge against her.
Coerced "virginity testing" is internationally recognised as a form of violence and discrimination against women and girls, and it also violates the absolute prohibition of torture, and cruel, inhuman and degrading treatment under international law.
Farghadani was charged with "illicit sexual relations falling short of adultery" for shaking hands with her lawyer in June, and since then has complained that prison officials and guards have made lewd gestures, sexual slurs and other insults to her. She went on a three-day "dry" hunger strike last month in protest at this ill-treatment, though the harassment has continued.
Amnesty considers Farghadani to be a prisoner of conscience, as she has committed no internationally-recognisable crime and has been punished simply for exercising her rights to freedoms of expression, association and assembly.
Amnesty International's Middle East and North Deputy Director Said Boumedouha said:
"The Iranian judicial authorities have truly reached an outrageous low, seeking to exploit the stigma attached to sexual and gender-based violence in order to intimidate, punish or harass her.

 

"The Iranian authorities must immediately and unconditionally release Atena Farghadani, who is a prisoner of conscience.  

 

"Whilst in custody, she must be protected from any further ill-treatment or reprisals, including pressure to retract her complaint. An independent and impartial investigation has to be urgently conducted into the alleged torture and ill-treatment suffered by Atena Farghadani, and those responsible brought to justice."
'Virginity tests'
Forced virginity testing committed in detention is a serious violation of international law. It violates women and girls' human rights to physical integrity, dignity and privacy, and the right to be free from torture and cruel, inhuman and degrading treatment. Such tests are discriminatory in purpose and in effect, and there is no legitimate justification for them. The UN World Health Organisation WHO has urged health authorities worldwide to end the practice of "virginity testing" in all cases, and to prohibit health workers from perpetuating the discriminatory and degrading practice.