Ivory Coast: Enforced disappearances a 'brazen attempt' to intimidate opposition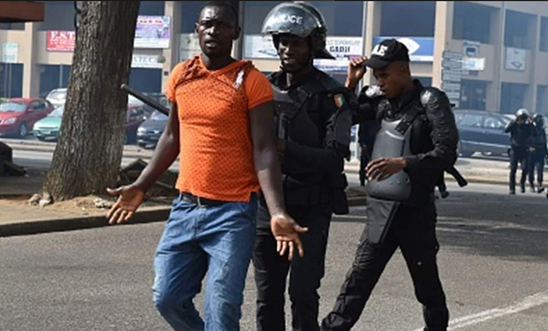 A man being arrested in Ivory Coast © Getty Images
Brother of presidential candidate Guillaume Soro forcibly disappeared
Five members of parliament among 17 people arrested last December
Thirteen charged with 'publishing false news, undermining public order and the authority of the state'
'The timing of the legal proceedings against Guillaume Soro and the arrests of his supporters and relatives are highly suspicious' - Francois Patuel
Authorities in Ivory Coast must uphold the right to fair trial of opposition members and their relatives arrested over the last two weeks and ensure they have access to their lawyers.
A wave of arrests took place between 23 and 31 December 2019 in Abidjan, a city on the southern coast of Ivory Coast. Among those was Rigobert Soro, a police officer and the brother of presidential candidate Guillaume Soro.
Dahafolo Koné, an aide to Soro's lawyer, was also amongst those arrested and has been held without charge and access to a lawyer since 27 December. Prior to his arrest, he was receiving treatment for a life-threatening condition and requires urgent medical attention.
Of those arrested, thirteen have been charged with 'publishing false news, undermining public order and the authority of the state'.
Francois Patuel, Amnesty International's West Africa Researcher, said:
"The authorities must immediately reveal the fate and whereabouts of Rigobert Soro. They should ensure all detainees have access to a lawyer, medical assistance and allow their families to visit them.

"Subjecting people to enforced disappearance and preventing detainees to access their lawyers are gross human rights violations and a brazen attempt to intimidate opposition voices.

 "The timing of the legal proceedings against Guillaume Soro and the arrests of his supporters and relatives are highly suspicious. Given the irregularities in the proceedings, it would come as no surprise if these charges were politically motivated.

"As the 2020 presidential election approaches, the Ivorian authorities must uphold the independence of the judiciary and refrain from using the criminal justice to persecute opposition leaders and critics".