Ireland: Abortion ref outcome 'sends message to Northern Ireland'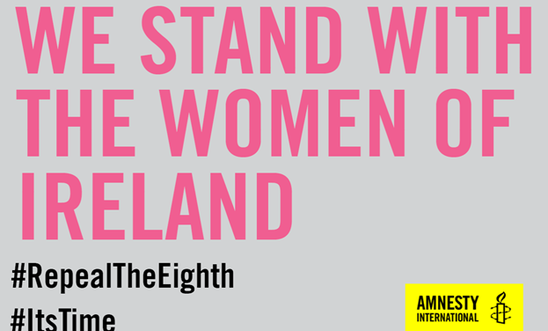 'The people of Ireland have given hope to women around the world'
Northern Ireland still subject to extremely restrictive abortion laws
'We cannot be left behind in a corner of the UK and on the island of Ireland as second-class citizens' – Grainne Teggart
The victory for the "Yes" campaign in Republic of Ireland's referendum on abortion is a momentous win for women's rights and must propel the UK government to ensure women in Northern Ireland aren't left behind, Amnesty International UK said today. 
Reacting to news that the Republic of Ireland voted to repeal the 8th Amendment of the constitution and reform the country's restrictive abortion law, Colm O'Gorman, Executive Director of Amnesty International Ireland, said:
"This is such an important vote for women's dignity and bodily autonomy. At last, Ireland is free to create a legal and medical framework for abortion access that respects their human rights.

"The people of Ireland have recognised the harm and suffering the Eighth Amendment has caused, and voted to end this. 

"We are proud and honoured to have been part of this campaign in Ireland.

"The people of Ireland have given hope to women around the world that their rights could be realised in their countries too.  Today's vote sends a message to Northern Ireland, El Salvador, Poland and other places where the struggle continues."
UK government must not leave women in Northern Ireland behind
Following the vote, Amnesty UK has issued an urgent call on the UK government to legislate so that women in Northern Ireland can enjoy the same levels of care, dignity and respect as
those in the Republic of Ireland and the rest of the UK.
Women and girls in Northern Ireland still face some of the most restrictive abortion laws in the world, which carry the harshest criminal penalties in the whole of Europe. The UK Government has the power and responsibility to bring Northern Ireland abortion law in line with human rights standards, said Amnesty.
Grainne Teggart, Northern Ireland Campaigns Manager for Amnesty International, said:
"The referendum result is a momentous win for women's rights. This marks the beginning of a new Ireland - one that really does trust and value its women.

"It must not be forgotten that us women in Northern Ireland are still persecuted by a Victorian-era abortion ban.

"It's hypocritical, degrading and insulting to Northern Irish women that we are forced to travel for vital healthcare services but cannot access them at home.

"The UK Government can no longer turn a blind eye and deny us equality. We cannot be left behind in a corner of the UK and on the island of Ireland as second-class citizens."
ENDS
Background:
Abortion law in Northern Ireland
The law in Northern Ireland dates back to 1861 and makes abortion illegal in almost every circumstance – including cases of rape or fatal foetal abnormality. Hundreds travel every year to other parts of the UK for abortion services and many others go online to buy abortion pills, risking prosecution for doing so.
The UK's Supreme Court is expected to make its ruling on a case considering whether Northern Ireland abortion law breaches women's rights in the next couple of months. In addition, the case of a mother being prosecuted for buying abortion pills for her daughter will have its hearing in September. Amnesty is involved in both cases.