Iraq: closure of IDP camps putting thousands stigmatised as 'ISIS sympathisers' at risk - new report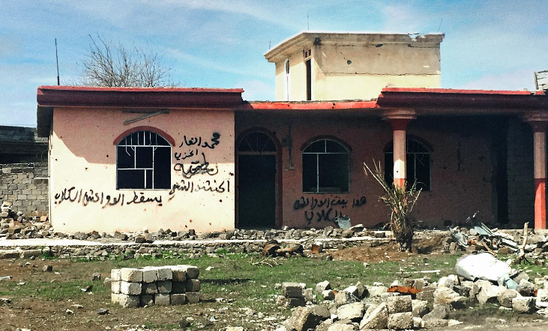 © Amnesty International
'Marked for life' report calls for halt to hasty camp closures
Those detained in anti-ISIS sweeps have suffered years of detention and mistreatment
'Nothing is bigger and more dangerous than someone calling you Daeshi' - Abed
Thousands of Iraqis with perceived ties to the Islamic State armed group are at risk as the Iraqi authorities close displaced-person camps, Amnesty International said in a new report today. 
In recent weeks, the Iraqi authorities have begun closing camps - shutting down Ninewa and Karbala camps in Baghdad among others - putting thousands at risk of ending up in precarious shelters or being forced to return to their areas of origin despite safety fears. 
There are an estimated 240,000 people in camps across various Iraqi governorates who were forced out of their homes during fighting with the Islamic State armed group, and between November 2018 and October 2020 Amnesty interviewed 119 people from seven camps. 
Amnesty's 43-page report - Marked for Life: Displaced Iraqis in cycle of abuse and stigmatisation - includes testimony from women and children in the camps who explain their fears over being stigmatised because of perceived links to ISIS fighters. Some men and boys arrested in largescale sweeps but later released also have grave fears for their safety outside the camps. Interviewees stressed that the camps were their only safe option. 
All the men and boys who spoke to Amnesty after having been released from detention in Iraq's Kurdistan region expressed fears they would be rearrested by the central Iraqi security forces - and likely face torture and unfair trials - if they sought to return to their homes in the governorates of Kirkuk, Ninewa and Salah al-Din. They said they knew of relatives and others who were re-arrested or suffered threats to them or their families. Arrests were often carried out by Iraq's National Security Service.
People with perceived ties to ISIS - and their relatives who are equally stigmatised and punished - have long faced a range of barriers to obtaining, renewing or replacing civil documents in Iraq. At official buildings the security forces have routinely subjected them to harassment and intimidation, and many told Amnesty they would not attempt to obtain their civil documents to avoid this mistreatment.  
"Abed", aged 23, who was released from detention by Asayish (the Kurdistan authorities' main security agency) where he was held for nearly three years before being acquitted of ISIS affiliation by a court, told Amnesty he now feared for his safety:
"In Iraq, nothing is bigger and more dangerous than someone calling you Daeshi [ISIS member]. One word and you're gone. I used to have hope for a normal life. But now there are red sniper dots on all of us." 
Lynn Maalouf, Amnesty International's Middle East and North Africa Deputy Director, said: 
"The internally displaced must be given a meaningful choice about their future and any returns must be dignified, safe and sustainable.

"The Iraqi authorities and KRG must address the continuing collective punishment of IDPs with perceived links to ISIS as an integral part of any national plans to close camps - currently the only option for shelter for thousands of people.

"To prevent further cycles of abuses, Iraq's authorities must guarantee that no-one is punished for the crimes of others; that all Iraqis can obtain civil documentation; and that the whereabouts of those disappeared is revealed."
Detention and torture in Kurdistan
In the fight against ISIS, the central Iraqi and Kurdistan authorities arrested thousands of displaced men and boys at checkpoints during military operations and in displacement camps, as well as in their areas of origin after return. The Kurdistan authorities subjected men and boys as young as 14 to arbitrary detention, torture and unfair trials, and the Iraqi security forces arrested men, women and boys who later disappeared. These actions have left released detainees - including those acquitted or released without charge - their families and the families of those who disappeared unable to escape a stigma that has hindered hopes for a safe future. 
Of the 115 cases documented by Amnesty, the Asayish security agency detained 48 men and boys, while the Iraqi military and security forces subjected 67 persons to enforced disappearance in Ninewa. Asayish members carrying out arrests either gave no basis for them or said the person's name was on a "wanted list." In some cases, the Iraqi security forces beat those they arrested, placing them in stress positions while they were handcuffed and blindfolded before dragging them away. This likely constitutes torture or other ill-treatment under international law.
All the men and boys detained by Asayish said that they were subjected to torture or other ill-treatment in an attempt to force "confessions" from them. Many were beaten with pipes or hoses, while one man was threatened with sexual violence against his female relatives. Amnesty's report shows how those detained were held for weeks or even months without being referred to the judicial authorities. 
Detainees brought to court in Erbil were frequently convicted under the Kurdistan region's vaguely worded Anti-Terrorism Law, and trials failed to comply with international fair trial standards. And when they were freed without charge, acquitted or released after completing a prison sentence, former detainees have faced arbitrary restrictions on their movement.
ISIS crimes
Amnesty has extensively documented ISIS crimes in Iraq, some of which amount to war crimes and crimes against humanity, and recognises that the armed group's activities continue to pose a threat to civilians in Iraq today. Amnesty has also acknowledged the immense challenges facing the Kurdistan and Iraqi authorities, and their duty to protect the security of all civilians on their territory and to ensure that ISIS perpetrators are held accountable. However, Amnesty remains seriously concerned at the authorities' failure to conduct fair trials of ISIS suspects, and of their failure to hold accountable those members of the Iraqi or Kurdistan security forces responsible for their own serious crimes.