Iran set to hang juvenile offender in less than 24 hours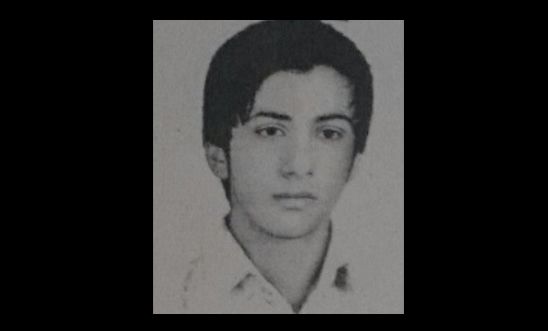 Alireza Tajiki's family have been told to visit him for the last time in jail © Private
Alireza Tajiki was 15 when arrested and only 16 when sentenced to death, contrary to international law
Is one of at least 89 juvenile offenders on death row in Iran
'This is an utterly shameless act by the Iranian authorities' - Magdalena Mughrabi
The Iranian authorities must halt the imminent execution of a juvenile offender who is due to be hanged in less than 24 hours, said Amnesty International this afternoon.
Alireza Tajiki, who was 15 at the time of his arrest and 16 when he was convicted and sentenced to death, was transferred to solitary confinement this morning and is due to be executed in the coming hours in Adel Abad prison in the city of Shiraz in southern Iran.
His family have been told to go to the prison in order to make their final visit, though the authorities have not informed his legal representatives, contrary to Iran's own laws which require lawyers to be informed of their clients' scheduled execution at least 48 hours in advance. 
Tajiki, now 21 years old, was sentenced to death in April 2013 after a criminal court convicted him of murder and male rape. The trial was grossly unfair and relied primarily on "confessions" which Tajiki said were extracted through torture, including severe beatings, floggings, and suspension by his arms and feet.
Following his arrest in May 2012, Tajiki had been placed in solitary confinement for 15 days, without access to his family. He was denied access to a lawyer throughout the entire investigation process. He has said that during this period he was subjected to torture to "confess" to the crime. He later retracted the "confessions" both before the prosecution authorities and during his trial, and has since consistently maintained his innocence. However, his "confession" was admitted as evidence during proceedings against him.
Meanwhile, both the original court and Iran's Supreme Court relied on forensic opinions stating that Tajiki was "mature" at the age of 15 and therefore eligible to receive the death penalty.
Magdalena Mughrabi, Amnesty International's Middle East and North Africa Deputy Director, said:
"This is an utterly shameless act by the Iranian authorities. 

"The Iranian authorities must immediately halt any plans to execute Alireza Tajiki.

"The Iranian authorities are demonstrating once again their callous disregard for children's rights as well as fair trial standards."
This is the third time since May 2016 that the Iranian authorities have scheduled Alireza Tajiki's execution. 
At least 89 juvenile offenders on death row
Iran is one of very few countries in the world to execute juvenile offenders. Last year, Amnesty published a report showing how "reforms" introduced by the Iranian authorities in 2013 were largely designed to deflect criticism of the country's record on such executions. Since then, Iran has condemned dozens of young people to death for crimes committed when they were below 18. Amnesty has identified the names of at least 89 individuals on death row in Iran who were under the age of 18 when the crime for which they were convicted was committed.