Iran: seriously ill prisoners denied medical care and left to die - new report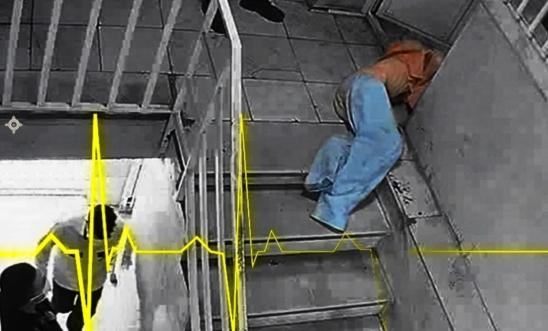 Report documents 96 prisoner deaths since 2010, though real figure could be far higher
Prisoners - many in their 20s or 30s - have died from untreated injuries sustained during violent arrests or from torture during interrogations 
'The Iranian authorities' chilling disregard for human life has effectively turned Iran's prisons into a waiting room of death for ill prisoners' - Diana Eltahawy
Iranian prison officials are deliberately denying seriously ill prisoners lifesaving healthcare and refusing to investigate unlawful deaths in custody, Amnesty International said today.
In a new 83-page report - In death's waiting room: Deaths in custody following deliberate denial of medical care in Iran's prisons - Amnesty has documented how the Iranian prison authorities routinely cause or contribute to deaths in custody, including by blocking or delaying detainees' access to emergency hospitalisation.
Amnesty's report details the circumstances surrounding the death in custody of 92 men and four women in 30 prisons in 18 provinces across Iran since January 2010 - with Amnesty emphasising that the 96 cases are only an illustrative snapshot of the true picture in Iran. 
Sixty-four of the 96 died in prison, with many actually dying in their prison cells - meaning they were not given even basic medical supervision in their final hours. Some died while in poorly-equipped prison clinics, and at least 26 prisoners died during transfer or shortly after admission to hospital, following deliberate delays by prison medical staff and/or prison officials. In at least six cases, critically ill prisoners were moved to solitary confinement, punishment wards or quarantine sections - four of these died alone in prison while two were eventually authorised for hospital transfers, but it proved too late. 
In many cases, both prison clinic medical staff and prison officials have accused prisoners experiencing medical emergencies of "faking" or "exaggerating" their symptoms. Nader Alizehi was accused of "faking" his illness by the head of the clinic at the main prison in Zahedan. He died in November 2017, at the age of 22. According to human rights groups, Nader was refused specialist medical care for his heart disease and sent away by clinic staff with gastrointestinal medication.
In another case, Abdolvahed Gomshadzehi, aged just 19, died in the main prison in Zahedan in May 2016. Prison doctors had warned he needed hospitalisation, but officials refused. Human rights groups said Gomshadzehi, who was a child at the time of arrest, died of neglected blood clots in his brain which had resulted from beatings sustained during his arrest and/or interrogations two years earlier. During his imprisonment, his multiple requests for treatment were denied.
At least 11 prisoners died after being denied adequate healthcare for traumatic injuries resulting from specific incidents that occurred at the time of arrest or during imprisonment. The other 85 prisoners died after being denied adequate medical care for serious medical emergencies involving, among things, heart attacks and strokes, gastrointestinal complications, respiratory complications, kidney problems, Covid-19 or other infectious diseases, which either emerged suddenly or were related to pre-existing illnesses for which they had not received the required healthcare throughout their imprisonment. 
In the vast majority of cases, prisoners who died were young or middle-aged - 23 were between the ages of 19 and 39, and 26 between the ages of 40 and 59, raising further concerns that lives are being cut short by denial of healthcare. 
Amnesty is urging the Iranian authorities to require that, pending structural improvements in prison clinics, prisoners experiencing medical emergencies or those with serious pre-existing illness or symptoms of what may be serious health problems must be immediately transferred to medical facilities outside of prison. 
Diana Eltahawy, Amnesty International's Middle East and North Africa at Deputy Director, said: 
"The Iranian authorities' chilling disregard for human life has effectively turned Iran's prisons into a waiting room of death for ill prisoners, where treatable conditions tragically become fatal.

"Deaths in custody resulting from the deliberate denial of healthcare amount to arbitrary deprivation of life, which is a serious human rights violation under international law. 

"A prisoner's death in custody also constitutes an extrajudicial execution, a crime under international law, if those responsible either intended to cause the death or knew with a sufficient degree of certainty that death would be the necessary consequence of their unlawful actions."
Oppressed minorities
Prisons with high populations of oppressed minorities feature particularly heavily in Amnesty's report - 22 of the 96 deaths took place in the prison in Urumieh, West Azerbaijan province, where most prisoners are from Kurdish and Azerbaijani Turkic minorities. Thirteen deaths were recorded at the main prison in Zahedan, Sistan and Baluchestan province, where prisoners mostly belong to Iran's oppressed Baluchi minority. The cases of 20 prisoners were of a political nature. The remainder had been convicted of or charged with non-political offences.
Fatal delays
Amnesty's report documents the fatal consequences resulting from prison officials' common practice of denying or delaying hospital transfers for critically ill prisoners. Prison officials frequently deny prisoners access to adequate healthcare - including diagnostic tests, regular check-ups and post-operative care - throughout their imprisonment, which leads to worsening health problems, inflicts additional pain and suffering on sick prisoners, and ultimately causes or contributes to their untimely deaths. 
Iran's prison clinics are not equipped to deal with complex health problems. Nor are they staffed by an adequate number of qualified general practitioners, let alone medical specialists, who are only required to visit for one or several hours during the week "as needed". As a result, prisoners who experience medical emergencies and need specialised medical care must always be immediately transferred to outside medical facilities. 
No investigations and claims of 'exemplary' care
The Iranian authorities have refused to conduct independent and transparent investigations into deaths in custody involving reports of the denial of medical care, and have failed to ensure that those suspected of criminal responsibility are prosecuted and punished. Systemic impunity in Iran has even emboldened officials in Iran to promote narratives praising the quality of health services offered to prisoners as "exemplary" or "unparalleled" throughout the world - indicating little intention of making necessary improvements. 
Amnesty is stressing that the 96 cases in its report are illustrative, and the true number of deaths in custody is likely to be far higher. Human rights violations in Iran often go unreported due to well-founded fears of reprisals. The 96-strong list also excludes deaths in custody involving credible reports of physical torture or the use of firearms, Amnesty has documented separately. 
Amnesty is reiterating its call for the UN Human Rights Council to set up an investigative and accountability mechanism to collect, preserve and analyse evidence of the most serious crimes under international law and human rights violations committed in Iran.