Iran: repression of students and academics has 'squeezed life out' of universities - new report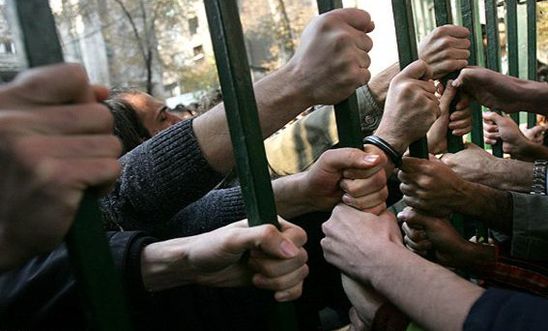 Students stopped from entering Tehran University during a demonstration in 2006 © ISNA/Saman Aghvami
Crackdown has seen 'Islamicisation' of university curriculums to banish 'Western' influences
Women forced out of courses - including 'male' ones such as engineering - and female education blamed for low birth-rate
The Iranian authorities have waged a ruthless campaign of repression over the past three decades against students and academics who are routinely harassed, detained or barred from studying or teaching because of their peaceful activism, views or beliefs, said Amnesty International in a report released today (2 June).
The 117-page report - Silenced, Expelled, Imprisoned: Repression of students and academics in Iran - also highlights widespread discrimination, particularly against women and religious minorities, in the country's higher education system. 
The report illustrates how the authorities have stepped up their use of repressive tactics, particularly in the wake of President Mahmoud Ahmadinejad's election in 2005. This has included efforts to "Islamicise" the academic curriculum to purge it of "Western" and secular influences, as well as measures to decrease the number of female university students. 
The authorities have entrenched the practice of "starring" - permanently or temporarily barring - students who do not conform to state-imposed social and political views from higher education. Despite initial welcome steps by President Hassan Rouhani's administration to allow the return of a number of banned students and academics to universities, the situation remains dire. Hundreds of students continue to be barred from higher education and many remain in prison, with some fresh arrests since President Rouhani's election. 
As the first academic year under Rouhani's administration comes to an end, many restrictions remain in place and Iran's authorities have yet to take action to ensure academic freedom is upheld and that some of the corrosive measures introduced under Ahmadinejad are stamped out.
Amnesty International Middle East and North Africa Deputy Director Hassiba Hadj Sahraoui said:
"Universities in Iran have long been perceived as a breeding ground for dissent.

 

"The authorities have consistently displayed zero tolerance of dissenting voices in universities, promptly dismissing, arresting, torturing and locking up students and academics merely for peacefully expressing their views or supporting opposition politicians.

 

"The Iranian authorities have retained an iron grip over academic establishments, even allowing state security and intelligence bodies to oversee disciplinary procedures on campuses.

 

"Relentless efforts to tighten the stranglehold on academic freedom, banish peaceful student activists and side-line women and religious minorities, have squeezed the life out of Iran's academic institutions leaving little room for freedom of thought or expression. 

 

"A crucial test for Iran's government under President Hassan Rouhani will be whether and to what extent the security forces loosen their grip on academic institutions."
Women
Under President Ahmadinejad, a steady rise in the numbers of women entering higher education - with women making up more than half of students in higher education by 2002 - came to an abrupt halt. Measures were introduced to bar women from enrolling in a number of degree courses perceived as more suitable for men, such as mining and engineering, while courses such as "women's studies" were adjusted to exclude women's rights under international law in order to emphasise "Islamic values". A gender quota system was also imposed to limit the number of women being accepted into universities. 
Meanwhile, surges in "Islamicisation" of higher education, including stricter enforcement of gender segregation on campus and of the dress code for women and girls, continue to have a deterrent effect on women entering higher education. Women's education also continues to be blamed by the authorities and by religious leaders for contributing to higher rates of male unemployment, a rise in divorces, and a decline in the national birth rate, with recent speeches by the Supreme Leader calling for a population increase. 
Crackdown on students
The mass protests which followed the contested 2009 presidential election in Iran led to a brutal crackdown, including raids on universities and dormitories with hundreds of students rounded up, beaten and detained. Many were held without trial for prolonged periods and in numerous cases students were tortured in custody. Dozens are still serving prison terms today. 
The report lists the cases of dozens of students and academics who remain behind bars after being convicted of catch-all national security charges such as "spreading propaganda against the system" or "insulting the Supreme Leader". Many of them are prisoners of conscience held solely for peacefully exercising their rights.
Religious persecution of Baha'is
Every year scores of students from the Baha'i faith are either prevented from entering higher education after passing the entrance exams, or expelled later on. Baha'is are widely regarded with suspicion by the Iranian authorities and face persecution including arrest, detention and imprisonment. Despite a growing body of evidence to the contrary, the Iranian authorities continue to publicly deny that anyone in Iran is expelled or imprisoned on the basis of their religious faith. 
Under international law no one should be barred from completing their education based on their sex, sexual orientation, gender identity, ethnicity, nationality, religious or other consciously held beliefs.