India: Uncertain destiny for millions in Assam post NRC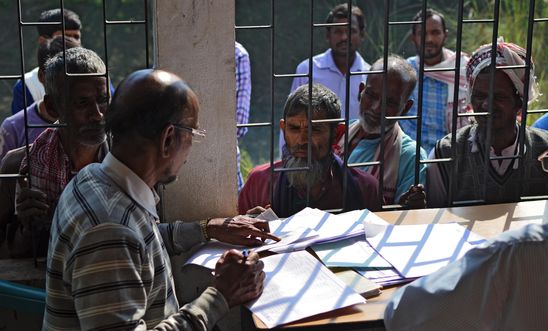 eople wait to check their names on the first draft of the National Register of Citizens (NRC) at Goroimari of Kamrup district in the Indian state of Assam on January 1, 2018. © AFP/Getty Images
More than 1.9 million people have been left out from the final list of the National Register of Citizens (NRC), which was published today, in Assam, India.
Aakar Patel, Head of Amnesty International India, said:
"The Foreigners Tribunals, which will decide the Indian citizenship of millions of people, are quasi-judicial bodies where persons claimed to be foreigners have the responsibility to prove that they are Indian citizens.
"The nationality determination process of the Foreigners Tribunals is divorced from the reality of documents in India. Many Indians, especially those belonging to poor and marginalized communities, do not have certified copies of identity documents or are unable to produce it on time to prove their citizenship. This is particularly true in the case of Assam, a state that has significant population of internally displaced persons because of frequent outbreaks of violence, and natural disasters.
"In many instances, people are facing detention and deportation largely because they do not have documents to show their parents or even grandparents were Indian citizens. It is unreasonable to expect people fleeing from violence and natural disasters to preserve half a century-old original identity documents.
"Assam is on the brink of a crisis which would not only lead to a loss of nationality and liberty of a large group of people but also erosion of their basic rights - severely affecting the lives of generations to come. Transparency in foreigner tribunal proceedings and strict adherence to fair trial standards can prevent this impending crisis."
Several reports have demonstrated how the proceedings before Foreigners Tribunals are arbitrary, while their orders are biased and discriminatory.
Instances of the foreigners tribunals declaring citizens as 'irregular foreigners' over clerical errors—such as minor differences in spellings of names or age in electoral rolls, or slight contradictions between answers given in cross-examinations and what is written in the documents—are appallingly common. Amnesty spoke to the family of Subrata Dey, who died in detention on 26 May 2018. His mother and brother said that his name was spelt as Subodh in his identity documents. His claim of being an Indian was, therefore, rejected by the Foreigners Tribunal after which he was sent to a detention centre in Goalpara, Assam. His family was ready to file an appeal in the Gauhati High Court when they learnt of his death in the detention centre.
Amnesty remains concerned about gender discrimination in the proceedings before the tribunals which are heavily weighed against married women. Reasons stemming from deeply rooted patriarchal structures such as child marriage, non-inheritance of property and residence in other states before marriage have caused mass non-verification of their documents. This has devastating consequences on their children, who are automatically excluded from acquiring Indian citizenship.