Iceland: Healthcare failures subject intersex people to 'lifetime of suffering' - new report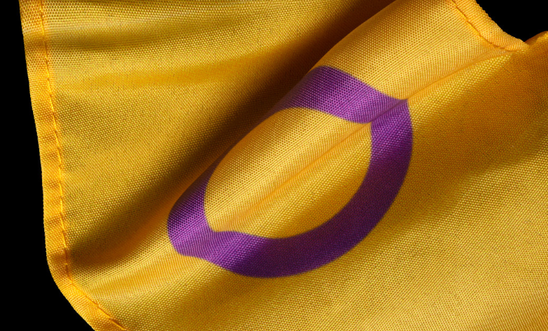 Intersex flag © Leifur Wilberg
"We are seen as 'disorders' that need to be fixed" - Kitty
There are an estimated 6,000 people in Iceland with variations of sex characteristics
Report details how inappropriate healthcare leaves many with lifelong physical and psychological damage
'A climate of misinformation and stigma means intersex people are still being harmed' - Laura Carter
Upcoming Bill on Act on Sexual and Gender Autonomy presents an opportunity for change
Individuals in Iceland born with sex characteristics that vary from female or male "norms" face significant barriers to accessing appropriate healthcare, risking lifelong physical and psychological damage, Amnesty International said in a new report today (Tuesday 19).
The 60-page report – 'No Shame in Diversity' - uses case studies in Iceland to show how the lack of rights-based healthcare protocols mean that people born with variations of sex characteristics, who sometimes describe themselves as 'intersex', face stigma and discrimination and are often subjected to harmful surgery. 
It is estimated that there are around 6,000 people in Iceland with sex characteristics – genitals, gonads, hormones, chromosomes or reproductive organs – which vary from the established norms for 'male' and 'female'. Amnesty found evidence that in Iceland, people who are born with variations of sex characteristics struggle to access healthcare that is appropriate and respects their human rights, which in some cases can cause lasting harm.
Individuals who spoke to Amnesty reported that the lack of appropriate treatment had a detrimental impact on their quality of life for many years. In some cases, this was compounded by a lack of access to medical records, with people not being given full information about what was done to their bodies.
Kitty, an intersex activist who founded the organisation Intersex Iceland, said:
"Good healthcare is so hard to get because we are seen as 'disorders' that need to be fixed… A lot of the health issues that arise are because of the treatment that we got as children. We wouldn't have all these cases of osteopenia or osteoporosis if we hadn't gone through gonadectomies as children and incompetent hormone therapy as teenagers.
"I would like for these variations to be something as normal as anything else. I don't want people to have to hide, to be ashamed. I want to see an understanding and acceptance that diversity exists and it's good and fine."
A bill that could help stop this – the Bill on Act on Sexual and Gender Autonomy – is expected to come before the Icelandic Parliament at the end of February. Amnesty is warning that the current bill lacks essential protections for children and is particularly concerned that it includes no provisions to end "normalising" non-emergency, invasive and irreversible surgeries on children born with variations of sex characteristics.
Amnesty has highlighted how, despite the fact that Iceland is ranked top of the World Economic Forum Global Gender Gap Index, the Icelandic authorities have failed to put in place rights-based healthcare protocols and ensure that people with variations of sex characteristics can access services that is appropriate for their needs.  
Laura Carter, Amnesty's Researcher on Sexual Orientation and Gender Identity, said:
"Iceland has a reputation for gender equality, yet the way the Icelandic health system treats intersex people is deeply troubling. Intersex children and adults are seen as problems that need to be fixed and the fact that they cannot access healthcare centred on their human rights can cause a lifetime of physical and mental suffering.
"The people that we spoke to said they felt doctors didn't listen to what they wanted for themselves or their children, instead opting to 'normalise' the bodies of intersex people through invasive surgery or hormone treatment.
"There have recently been some shifts in attitude, largely thanks to the tireless work of intersex activists, but a climate of misinformation and stigma means intersex people are still being harmed."
Amnesty is urging the Icelandic government to put in place clear human rights guidelines and effective social support to ensure people with variations of sex characteristics can access the highest attainable standard of health.
Amnesty' is calling on the Icelandic government to:
Create a specialised, multidisciplinary team for the medical treatment of children and of adults with variations of sex characteristics;

develop and implement a rights-based healthcare protocol for individuals with variations of sex characteristics to guarantee their bodily integrity, autonomy and self-determination;

ensure that no child is subjected to non-emergency, invasive and irreversible surgery or treatment with harmful effects.
Background 
The terms used to refer to variations of sex characteristics are diverse, and in some cases, contentious. This report frequently uses the term 'intersex', which is widely used and with which many individuals with variations of sex characteristics globally self-identify. However, it is important to note that not all individuals with variations of sex characteristics identify as intersex.