Hungary: Syrian man unjustly jailed finally allowed home to Cyprus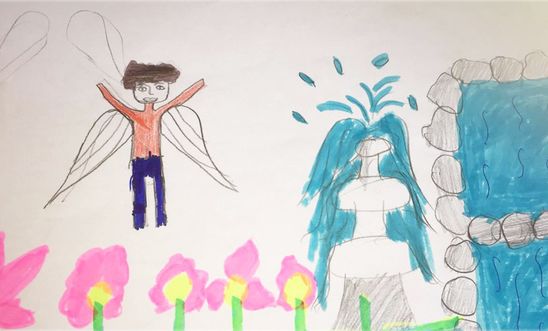 Ahmed H's daughters drew a picture of him with wings so he could fly home to them. © Private
Authorities in Cyprus have finally allowed Ahmed H to return to his family
Authorities in Cyprus have finally allowed Ahmed H, a Syrian man unjustly convicted in Hungary in a blatant misuse of terrorism-related charges, to return to his family today.
Responding to the news that Ahmed - who had been jailed in Hungary in 2015 - would return home, Giorgos Kosmopoulos, Director of Amnesty International Greece, said:
"After four long years of separation Ahmed has finally been reunited with his family, just in time for his elder daughter's tenth birthday. His return home to Cyprus is an overwhelming relief for the family, but he should never have been prosecuted, let alone convicted on those trumped up charges in the first place.

"Ahmed's wish to bring his Syrian family to safety was what led him to be in Hungary in 2015. It is a scandal that the Hungarian government kept him away from his wife and children for so long, but after Cyprus did the right thing, today we celebrate that they are now reunited." 
Over 24,000 people joined Amnesty International's #BringAhmedHome campaign calling on Cyprus to permit his return.
Background  
In August 2015, Ahmed left his family home in Cyprus to go and help his elderly parents and six other family members flee Syria and find safety in Europe. One month later, they found themselves among hundreds of refugees stranded at the Hungarian border after police fenced off the crossing with Serbia. 
Clashes broke out as some refugees attempted to get through. Hungary's police responded with tear gas and water cannon, injuring dozens. Some people threw stones, including Ahmed. But news footage also clearly shows Ahmed using a megaphone to call on both sides to remain calm before the clashes.
Ahmed was arrested and a Hungarian court found him guilty of involvement in an "act of terror", under Hungary's extremely vague counter-terrorism laws, and sentenced him to 10 years in prison, later reduced to 7 years and then 5 with eligibility for early release.