Hundreds to protest as Chinese President Xi Jinping visits London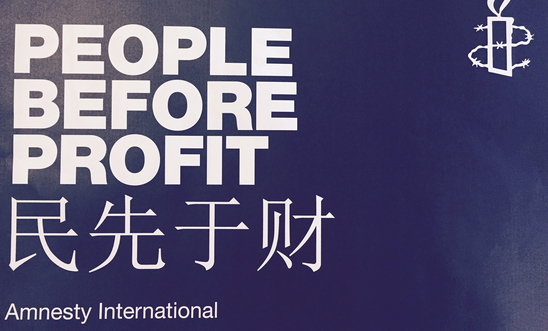 On Tuesday 20 October, the first day of a state visit by Chinese President Xi Jinping, (20-23 October) Amnesty International and various groups concerned with human rights issues in China, will protest in St James Park as President Jinping parades up the Mall to Buckingham Palace, where he will attend a banquet later that evening.
There will also apparently be a rival 'Pro-China' protest at the same location.
The visit comes amidst a marked deterioration in the human rights situation in China under President Jinping's leadership. The government has ratcheted up censorship of the internet, clamped down on civil society, increased its ideological controls over the media and academia, and launched several large-scale crackdowns on human rights defenders, lawyers, and activists. Most recently at least 245 lawyers and activists have been targeted in an unprecedented nationwide campaign over the last 100 days and at least 30 are 'missing' or still in police custody.
Protestors will hold placards and banners with slogans in both Chinese and English with the following messages; 'Rights over revenue', 'People before profit', 'Where is Wang Yu?' (lawyer, arrested at the start of a recent crackdown on human rights lawyers, her whereabouts remain unknown) 'Justice for Cao Shunli' (human rights activist, who advocated for the right of petitioners to contribute to China's human rights reports and died whilst under arrest, having been denied medical attention, her body has still not been returned to her family), 'Free Ilham Tohti' (Uighur academic serving a life sentence on separatism-related charges) and 'End the crackdown'.
PHOTO CALL
WHAT:           Human rights protest at President Xi Jinping's state visit
WHEN:           11am Tuesday 20 October 2015
WHERE:         King George VI memorial, St James Park, North of the Mall, Buckingham Palace https://www.royalparks.org.uk/parks/st-jamess-park/things-to-see-and-do/monuments-fountains-and-statues/king-george-vi-memorial
WHO:  Kate Allen, Shao Jiang, Tiananmen survivor and other Chinese activists
INTERVIEWEES
Dr. Shao Jiang
Shao was actively involved in student movements from 1985 to 1989 when he was a student at Beijing University. On 17 April 1989, he drafted a list of demands when marching towards Tiananmen Square with his fellow students. Later the demands became one of the main manifestoes of the 1989 pro-democracy movement. In the evening of 3 June, he witnessed the killings in West Chang'an Avenue before running back to Tiananmen Square to warn fellow protesters of what was coming pleading with the "Four Gentlemen" (protest leaders) including Liu Xiaobo, to retreat by negotiating with the army leaders. He was among the last group of protesters who left Tiananmen Square in the early morning of  4 June. He was jailed for 18 months in a series of provincial and national prisons from 1989 to 1991. He fled China in 1997 and has been in the UK since 2003.
Kate Allen- Director of Amnesty International UK