Hundreds of grim reapers protest at Cameron's stance on Sri Lanka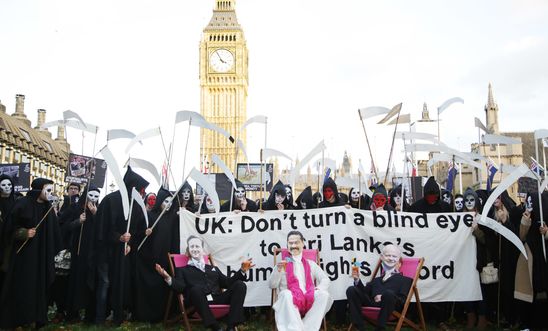 Saturday's Amnesty protest outsiden parliamnent © Amnesty International UK
Hundreds of Amnesty supporters dressed as grim reapers accompanied by lookalikes of Prime Minister David Cameron, Foreign Secretary William Hague and Sri Lankan President Mahinda Rajapaksa gathered in Parliament Square in central London today ahead of next week's Commonwealth Heads of Government Meeting (CHOGM) in Sri Lanka.
The protesters gathered on a mock beach with the figures of David Cameron and William Hague accompanied by their host Mahinda Rajapaksa, sipping cocktails to symbolise what campaigners say is a 'disconnect' between the diplomatic glamour of the CHOGM meeting and the brutal end to the Sri Lankan conflict. The closing chapter of the conflict took place on the beaches in the north of Sri Lanka, where an estimated 40,000 civilians were killed.
The grim reapers wore long black cloaks, with ghoulish death masks and scythes. Protesters held up signs and banners about Sri Lanka's human rights abuses.
Kate Allen, Director of Amnesty International UK, said:

"CHOGM should not just be an opportunity for President Rajapaksa and his government to sign business deals whilst clinking glasses with David Cameron and other world leaders.

"CHOGM ought to be a moment when the world examines Sri Lanka's appalling human rights record, remembers the 40,000 dead and calls for accountability.

"It's great to see so many protesters here in the UK insisting that CHOGM isn't a whitewash and that our leaders ask some hard questions of their hosts.

"Let's hope Cameron and Hague are listening and remember to pack Amnesty's recent report on the targeting of journalists and lawyers in Sri Lanka, as well as business contracts."
Background
During the final months of Sri Lanka's armed conflict in 2009, as many as 40,000 civilians were killed according to UN estimates. The vast majority of casualties died at the hands of the Sri Lankan army.
Since then President Mahinda Rajapaksa has ensured that power is further concentrated for himself, his family and those loyal to him, whilst resisting calls for an independent inquiry into the conflict. He has removed presidential term limits, placed key government institutions under his direct control and continued the use of draconian security legislation to grant the security forces sweeping powers and impunity.
In January of this year the Chief Justice Shirani Bandaranayake was impeached on charges of 'misconduct', prompting an outcry from lawyers around the world. The Commonwealth Lawyers Association passed a resolution calling for Sri Lanka's suspension from the Commonwealth altogether.
Meanwhile 'white van kidnappings' have been a disturbing new occurrence in Sri Lanka, with opponents and critics of the government being bundled into anonymous white vans. For example journalist and cartoonist Prageeth Eknaligoda went missing in January 2010 on his way home from his office at Lanka-e-News, near Colombo. Prageeth disappeared during the run-up to the Sri Lankan Presidential election. He had been an outspoken government critic and had just written an article in favour of the opposition candidate. His wife says despite her repeated requests the police have consistently refused to investigate properly.
This year the Queen, the Head of the Commonwealth, signed the Commonwealth Charter – which sets out the common values of the Commonwealth. Sixteen core beliefs are drawn up in it in total, including human rights and the rule of law.
You can read Amnesty's most recent report on Sri Lanka 'Assault on Dissent' at: http://www.amnesty.org/en/library/asset/ASA37/003/2013/en/338f9b04-097e…