Hong Kong: Mass arrests of peaceful protesters as media asked to leave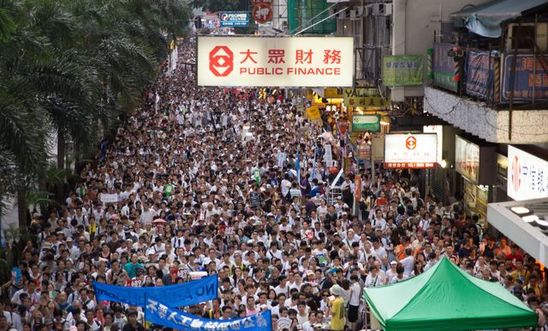 Hong Kong pro-democracy march, 01 July 2014 © Amnesty International
The Hong Kong authorities must release all those detained solely for peacefully protesting in pro-democracy demonstrations, Amnesty International said, after more than 500 people were arrested by police today.
Police removed hundreds of peaceful demonstrators from the city's business district in the early hours of this morning.
Hundreds of protesters remain in detention, reportedly for holding an 'illegal assembly' and for obstruction of a public place.   
Yesterday, more than half a million people took part in one of the largest pro-democracy marches in Hong Kong's history, according to organisers. Hundreds continued the protest throughout the night before police moved in.
Police reportedly also asked media to leave the demonstration site before the protesters were removed.
Mabel Au, Director of Amnesty International Hong Kong, said:
"This was not an illegal assembly; it was a peaceful and legitimate protest under international law. The police action was hasty and unnecessary and sets a disturbing precedent.
"All those being held solely for exercising their rights to freedom of expression and assembly must be immediately and unconditionally released.
"The dispersal of protests should only be taken as a last resort and it is questionable this was the case. The protesters said they would leave at 8am and those remaining at that time did so. The authorities must remember peaceful assembly is a legitimate and valid use of public space.
"The request for journalists to leave the protests was wrong and is another worrying sign of the Hong Kong authorities' growing hostility to press freedom."
Amnesty urges the authorities to ensure all those detained are given access to a lawyer of their choosing, after reports that many lawyers had not been able to meet with their clients.
Under international law, protests do not require approval by the authorities, though advance notice can be requested.