High Court refuses to rule on 'utterly shameful' £1,000 child citizenship fee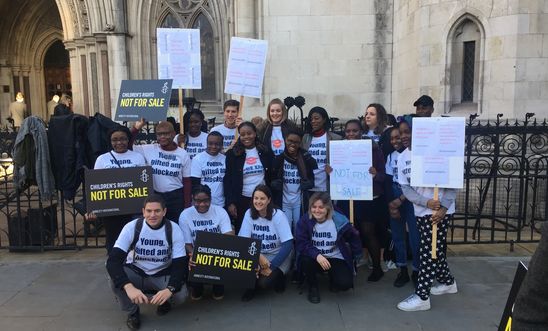 Yesterday, the High Court declined to rule on the lawfulness of a near £1,000 fee that is preventing thousands of children registering their legal right to British citizenship.
The court acknowledged, having received a large body of evidence, that thousands of children are affected.
However, the judge acceded to a request from the Home Office that the case should not proceed, arguing that it had become 'academic' because after being granted permission to bring the case forward, the claimant had been registered British thanks to a public donation.
Steve Valdez-Symonds, Amnesty UK's Programme Director for Refugee and Migrants Rights, said:
"It is hugely disappointing that the court has declined to address this exorbitant fee. It's appalling that in 21st century Britain, the most basic of children's rights should be excluded from the poor.

"Tens of thousands of children who were born in this country are at risk of having their futures snatched away from them. Such barefaced profiteering from children by the Home Office is utterly shameful.

"However, Amnesty will not let this setback dampen its resolve. Children's rights are not for sale. We will continue to fight, alongside the PRCBC, to end this injustice."
The fee for a child to register their right to British citizenship is £973. The Home Office asserts that £386 of this constitutes the administrative cost of registration.
Academic research suggests there are tens of thousands of children in the UK who are without British citizenship, that they are entitled to.
The consequences for these children, increasingly as they near or reach adulthood, can include being unable to access higher education, employment, rented accommodation, a bank account or passport; and action by the Home Office to detain and remove them. 
Solange Valdez-Symonds, Director of the Project for the Registration of Children as British Citizens (PRCBC), said:
"This is a body blow to the hopes of children and campaigners that the court would bring to an end the Home Office policy of charging an exorbitant fee – far higher than the actual cost of processing the registration of these children's citizenship – which prevents many children exercising the right Parliament gave them to be British.

"The prospect that children must continue to rely on the generosity of someone donating the cost of the fee, or the hope that they can find a lawyer willing to bring an expensive judicial review challenge, is dismal.

"For many neither will be an option, and this scandalously high fee will bar them from the citizenship that is theirs by right leaving them at risk – as was the case for the claimant before these proceedings were brought – of the Home Office seeking to remove them from the country that is their home, where they were born, and where they should be recognised as a citizen.

"Meanwhile, many of these children are also left widely excluded, particularly as they approach adulthood, from such vital things as healthcare, higher educational opportunities and employment.

"PRCBC will not be deterred by this set back. The support has been hugely encouraging, and I am sure the disappointment of this judgment will only be a further spur to action to bring to an end the injustice of this fee and ensure all children entitled to British citizenship can claim it."
The PRCBC was founded by Solange Valdez-Symonds and Carol Bohmer in 2012, and is the leading organisation in the UK dedicated to securing the rights of children to British citizenship through litigation, advocacy and campaigning.