Hampton Court garden celebrates Magna Carta as Human Rights Act under threat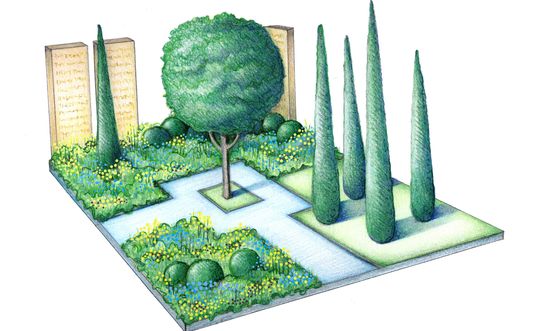 Illustration of garden
Eight hundred years since Magna Carta a commemorative garden will mark the historic anniversary at the RHS Hampton Court Palace Flower Show, at a time when modern-day human rights protections are under threat as never before.
The "Amnesty International: Magna Carta 800 Garden", celebrates the history of human rights with horticultural design elements showing how the Magna Carta is the parent of human rights protections leading all the way up to the Human Rights Act of today. The garden is designed and created by award-winning garden and landscape designer Frederic Whyte.
A tree at the heart of the garden represents the Ankerwycke Yew in Runnymede under which Magna Carta was signed in 1215.  In Mr Whyte's garden the yew is surrounded by five cypress trees which represent the Magna Carta's "offspring": The Bill of Rights (1689); The Slavery Abolition Act (1833); The Universal Declaration of Human Rights (1948), described by Eleanor Roosevelt as the "international Magna Carta for all mankind"; The European Convention on Human Rights (1950), and The Human Rights Act (UK 1998). 
In the Hampton Court garden a modern English version of the Magna Carta can be read by visitors on huge stone panels which surround the garden. As well as Amnesty's trademark yellow, burgundy plants represent the wax seal of the original Magna Carta.
The garden will be open to the public from Tuesday 30 June – Sunday 5 July with a press day on Monday 29 June.
Laura Trevelyan, Amnesty UK's Human Rights Act Campaign Manager, said:
"Eight hundred years ago, the rights of individuals to challenge the power of the state were set down for the first time.

"Eight hundred years on, our government is seeking to rip that legacy up by the roots.

"Amnesty will continue to fight to protect the Human Rights Act and we hope visitors to this lovely garden will stand under the Yew and think of how precious our hard-won human rights continue to be."
To call for the Human Rights Act to be protected, visit www.savetheact.com
For tickets to the Hampton Court Flower Show go to www.RHS.org.uk