Government's legal aid cuts threaten to 'decimate' access to justice - new warning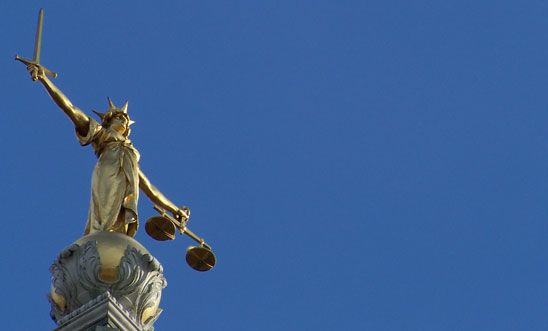 © Steve Calcott under Creative Commons license
'Had it not been for legal aid and vital access to judicial review, the UK government could have had blood on its hands from its attempt to forcibly return a Syrian political activist last October' - Paul Dillane
The government's proposed cuts to legal aid and restrictions to the judicial review process constitute an unprecedented threat to accessing justice in England and Wales, Amnesty International has said ahead of a demonstration outside the Ministry of Justice tomorrow.
Amnesty has issued the warning ahead of a "Demonstration to Save Justice" organised by a coalition of campaigners including prominent QCs, lawyers and other civil society groups.
Amnesty believes the cuts will hit the most vulnerable in the country the hardest, with the proposed changes excluding individuals such as migrants, survivors of trafficking and Children's rights from accessing justice. The changes would also mean that government bodies would be less accountable for their actions.
On 9 April the Ministry of Justice launched a consultation - "Transforming Legal Aid" - which proposes significant changes and cuts to criminal and civil legal aid, the introduction of a "residency test" to limit access to civil legal aid, and cuts to the funding of applications for judicial review. These proposals follow unprecedented legal aid cuts recently introduced by the Legal Aid Sentencing and Punishment of Offenders Act 2012, which came into force on 1 April 2013. Amnesty has condemned the proposals in response to the consultation.
Amnesty International UK Refugee Researcher Paul Dillane said:
"Access to justice is the very cornerstone of any civilised society and these new proposals could decimate that access for the most vulnerable people.
"Had it not been for legal aid and vital access to judicial review, the UK government could have had blood on its hands from its attempt to forcibly return a Syrian political activist last October. It is shocking to think that decisions of this type will effectively be immune from challenge if the government proceeds with these proposals.
"This is also a false economy as, rather than saving significant sums, the government is likely to place great strain on the courts with the rise of desperate people trying to represent themselves. We are asking the government to urgently reconsider these proposals."
Details of demonstration:
The "Demonstration to Save Justice" will take place between 4.30-7.30pm on Tuesday 4 June outside the Ministry of Justice, 102 Petty France, London SW1
Speakers will include: Dinah Rose QC, Stephen Knafler QC, Mike Fordham QC and Bianca Jagger (Council of Europe Goodwill Ambassador).
The demonstration is organised by the Save Justice UK coalition. Contact: Anita Hurrell, 07966 381906.
Find out more about our involvement in the case of a Syrian political activist last October
Find out more details about the demonstration