Global refugee crisis: Catastrophic moral failure as rich countries leave refugees to cruel and uncertain fates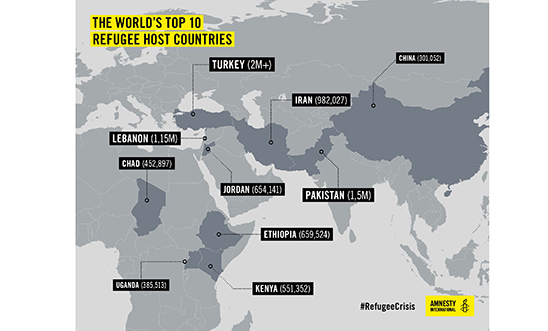 The catastrophic moral failure of world leaders who argue among themselves while leaving millions of people to suffer in appalling conditions will define their legacy for generations to come, said Amnesty International today as it released an eight-point plan to tackle the multiple global refugee crises.
Horrific violence in Syria, Iraq, Afghanistan, and conflicts in sub-Saharan Africa and elsewhere have seen the global refugee population soar to unprecedented levels. Meanwhile Southeast Asia's "sailing season" has begun, with many more refugees likely to join the thousands of Rohingya who have fled persecution in Burma, only to fall prey to trafficking and other abuses.
The response to these global refugee crises has been shameful, particularly from the world's richest countries, which have ignored appeals for humanitarian aid and to resettle vulnerable people. Wealthy countries have offered resettlement places to only around a tenth of the 1.15 million people who need them. Meanwhile, developing counties are hosting millions of refugees with almost no support.
Salil Shetty, Secretary General of Amnesty International, said:
"The unprecedented multiple global refugee crises are leaving millions of people in desperation, but the response of wealthy countries is a catastrophic failure. This is a pivotal moment which will define current world leaders' legacy for generations to come – history will judge them very harshly unless they change course.

"The international refugee protection regime drawn up as a crucial safeguard after World War II risks being left in tatters if world leaders continue in their deplorable failure to protect vulnerable people fleeing war and persecution. Refugees have an international right to seek and enjoy asylum."
Poor countries bearing the brunt
While the increase in the number of refugees reaching the European Union has dominated headlines in recent months, the reality is that poorer countries are being forced to bear the brunt of coping with the refugee crises. Developing countries mainly in the Middle East, Africa and Asia are currently hosting 86% of the world's total 19.5 million refugees.
Wealthier countries are not doing nearly enough to share the burden. Humanitarian appeals for refugee crises are consistently – and often severely – underfunded. For example, as of 2 October, the UN's humanitarian appeal for Syrian refugees was only 46% funded, while the appeal for South Sudan refugees only reached a pitiful 17% of its goal. This is having a devastating impact on refugees' access to food, medicine and other humanitarian assistance.
Salil Shetty said:
"When the G20 leaders meet next month in Turkey, they should not leave the room until they have a concrete plan with clear timelines to guarantee full and sustainable humanitarian funding for the world's multiple refugee crises; anything less will be an utter failure of leadership."
"Instead of rising to the challenge of this unprecedented crisis, many governments have been busy devising ways to keep people outside their borders while thousands are dying at sea or enduring squalid conditions in the shadow of razor-wire fences. This is moral bankruptcy of the highest order."
Eight-point plan
Ultimately, refugee crises end when their root causes are addressed. States should seek to end conflicts and widespread human rights abuses, but these goals are difficult to achieve and take time.
However, there are things the world's richest countries can do right now to lessen the devastating impact of the world's refugee crises. Amnesty is calling for concerted action in eight priority areas:
1.        Continuous, sufficient and predictable funding for refugee crises: all humanitarian appeals for refugee crises must be fully funded, in addition to providing meaningful financial support to countries hosting large numbers of refugees to help them provide services to refugees and their host communities.
2.        Fulfilling all resettlement needs identified by the UN Refugee Agency (UNHCR): 1.15 million vulnerable refugees currently need resettlement, according to UNHCR. Amnesty International estimates this number could increase to 1.45 million over the next two years.
3.        Safe and legal routes for refugees: people should not have to embark on dangerous journeys to seek their right to refuge. States should facilitate family reunification for refugees, introduce humanitarian visas to allow vulnerable refugees who do not qualify for resettlement to travel to these states and apply for asylum, and allocate a proportion of their work and student visas programmes to refugees in other countries.
4.        Saving lives: states must prioritise saving people in distress over implementing immigration policies. In situations where people are in danger of death, including – but not limited to – people attempting sea crossings, states should invest in search and rescue operations and immediately come to the rescue of people in distress.
5.        Ensure access to territory for refugees arriving at borders: those seeking asylum should be allowed to enter through official border crossings, regardless of whether or not they have valid travel documents. States should refrain from taking any measures that prevent people from fleeing a country where they face persecution or violence; these include refusal of entry without visas or other documentation, push backs and border fences that prevent refugees from entering a country or forces them to take dangerous routes.
6.        Combat xenophobia and racism: governments must refrain from engaging in xenophobia themselves, for example by implying or directly claiming asylum-seekers and migrants are to blame for economic and social problems. Governments must also reform any laws or policies that explicitly or practically result in racial or other forms of discrimination. Governments must also have effective policies to address xenophobic and racial violence.
7.        Combat trafficking: states must take effective action to investigate and prosecute trafficking gangs. States should offer protection and assistance to victims of trafficking and ensure they have access to refugee status determination procedures and/or resettlement opportunities. All efforts to combat trafficking and people smuggling must put people's safety first.
8.        Global ratification of the Refugee Convention and developing robust domestic refugee systems: states must recognise in law the right to seek and enjoy asylum, have fair domestic procedures to assess refugee claims and must guarantee refugees their fundamental rights and access to services, such as education and healthcare.