Give a hedgehog a home this Christmas and support Amnesty's vital work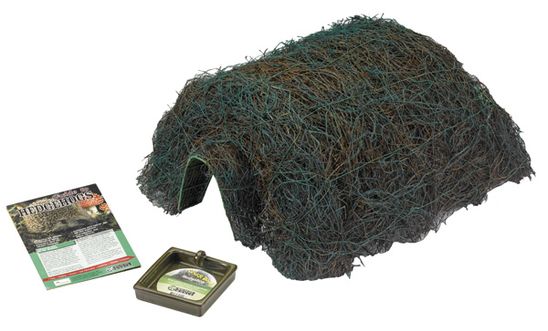 Celebrate Christmas with a conscience this year with an exciting range of weird and wonderful gifts for all the family from Amnesty International.
Wildlife lovers can do their bit for the fast-declining hedgehog population – down by a third since 2003 - with a cosy hedgehog house for their garden complete with frost resistant food bowl and a guide on how to care for our prickly, slug-eating friends.
For dog walkers who want to make a difference, there are biodegradable dog poo bags (don't worry, it takes 40 days for them to break down so you'll have plenty of time to get to a bin) and a festive dog whistle made of naturally-discarded deer antlers to keep your canine close on bracing winter walks.
Sticking with the natural world, there is also Amnesty's take on that cartoon strip staple - the baddie slipping on a banana skin and meeting his or her unfortunate end. Don't wait for the banana to come to you, get your loved one a pair of banana leaf (OK, it's not the skin but nearly) slippers to keep their feet warm over the long months until spring.
For an edgy stocking filler, how about a set of three stretchy barbed wire wristbands evoking the image of Amnesty's iconic candle? Or get creative with a bag of colourful beads, made from the extraordinary fruit of the Tagua tree that grows deep in the Amazon rainforest. Each one comes with a hole for stringing or sewing.
For the book-loving men in your life, Poems That Make Grown Men Cry is a fascinating anthology in which 100 well-known men – including actors Daniel Radcliffe and Stephen Fry and authors Salman Rushdie and Ian McEwan – confess to being moved to tears by poems that haunt them. For children, there's the award-winning We Are All Born Free, which celebrates each of our human rights illustrated by internationally renowned artists, including Axel Scheffler, John Burningham and Polly Dunbar.
All of these products and many more are available from Amnesty UK's online shop, where you'll find calendars, Christmas cards, candles, more books, clothes and items for home and garden. It's a perfect way to shop ethically and the money raised from sales goes to funding Amnesty's work standing up for truth, freedom, justice and equality around the world.