G20 summit: Trump-Putin meeting is 'matter of life and death' for Syrians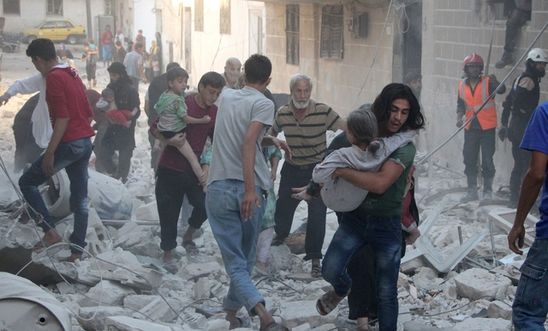 Syria has suffered more than six years of relentless airstrikes on civilian areas © Omar Haj Kadour/AFP/Getty Images
'A continuation of present policies would have disastrous consequences for the people of Syria' - Samah Hadid
The lives of millions of Syrian civilians hang in the balance as Donald Trump and Vladimir Putin prepare to meet on the sidelines of the G20 summit in Hamburg tomorrow, said Amnesty International.
The two presidents are set to discuss counter-terrorism initiatives and a political resolution to the Syrian conflict. 
Samah Hadid, Amnesty International's Middle East Campaigns Director, said:
"For civilians in Syria, decisions made by President Trump and President Putin are a matter of life and death. 

"A continuation of present policies would have disastrous consequences for the people of Syria, who have endured unimaginable suffering for more than six years.
 
"The USA and Russia must publicly commit to protecting civilians in Syria and to ending violations by their own forces as well as by the warring parties on the ground. Both countries and their allies are responsible for the deaths and injuries of hundreds of thousands of men, women and children.

"It is not enough for US leaders and lawmakers to have expressed concern over the situation inside Saydnaya prison. The Trump administration must pressure Russia to use its influence over the Syrian government and allow for monitors inside Saydnaya prison and other places of detention.

"As the USA and Russia discuss the political process that could lead to peace in Syria, they must put accountability at the centre of the discussion. If justice for the Syrian people is not allowed to take its course, the seeds of renewed conflict and future atrocities will always be there."
Russia's part in Syria's crimes against humanity 
Since the onset of the crisis in Syria, Amnesty has documented violations and abuses of human rights and violations of international humanitarian law committed by all parties, including war crimes and crimes against humanity. Syrian government forces, with the support of Russia, have attacked and bombed civilians, killing and injuring thousands; maintained lengthy sieges on civilian areas; subjected tens of thousands to enforced disappearances and extrajudicial executions; and systematically tortured and otherwise ill-treated detainees, causing countless deaths in custody. Armed groups have indiscriminately shelled and besieged predominantly civilian areas, and committed abductions, torture and summary killings. Even before its air campaign in support of government forces began September 2015, Russia has been the Syrian government's main ally, providing it with military support, arms and political cover at the UN Security Council. In the northern part of Aleppo, the Russian air force bombed hospitals to pave the way for the Syrian army. Russia has also blocked numerous UN Security Council resolutions, including resolutions that would have ensured accountability for war crimes, such as the use of chemical weapons by the Syrian government and armed groups fighting in Syria. 
Amnesty has also called on the USA to conduct prompt, impartial investigations into violations by the US-led coalition in Syria and publicly disclose their findings. Amnesty recently documented the unlawful use of white phosphorus by US forces over densely-populated civilian areas in Raqqa, a clear violation of international humanitarian law that may amount to a war crime. 
Torture and mass hangings at Saydnaya
In a report in February, Amnesty showed how the Syrian authorities have carried out a secret programme of mass killings in Saydnaya military prison near Damascus, where an estimated 13,000 people have been hanged in the past five years, invariably after suffering systemic torture on an industrial scale. The mass hangings have been carried out in batches of up to 50 people at a time, usually weekly and sometimes twice a week. Despite global outrage, independent monitors are still not allowed by the Syrian government to visit any places of detention in Syria.