France: School children and protesters victims of excessive force by police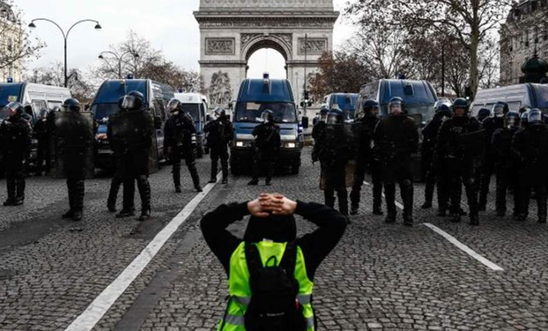 Amnesty fears for safety of demonstrators at tomorrow's protests
More than 1,400 people injured during recent 'gilets jaunes' demonstrations
Rubber bullets, tear gas and sting-ball grenades used against largely peaceful protesters
 'I heard a rubber bullet and I saw a student collapse. His cheek was burst open… He was just talking to friends' – Paris teacher, Mathieu Barraquier
Amnesty International is calling on the French authorities to avoid excessive use of force and exercise restraint when policing the gilets jaunes protests in Paris tomorrow.
On 17 November, anti-government demonstrations broke out across France. Since then, 1,407 protesters and 717 police officers, gendarmes and firefighters have been injured. Rubber bullets, tear gas and sting-ball grenades have been used by police forces against largely peaceful protesters. The French government has condemned acts of violence by protesters, yet so far have failed to express concern over the excessive use of force by the police. 
Rym Khadhraoui, Amnesty International's West Europe Researcher, said:
"As the clouds of tear gas lift, a clearer picture has emerged which shows police have used excessive force against largely peaceful protesters, journalists and even children.
"Whilst policing demonstrations is a difficult task, and some protesters have committed unlawful and violent acts, it is essential that both French law and international human rights law is respected.
"Police have a duty to maintain public order, and in doing so they may use force only when strictly necessary. If the use of force is unavoidable, it must be done with restraint.
"As thousands of people prepare to take to the streets tomorrow, the authorities must guarantee the safety and security of everyone and ensure that people can exercise their right to demonstrate peacefully. They should take lawful and proportionate measures to protect life and public order and must avoid excessive use of force.
"The wearing of equipment to protect against tear gas, rubber bullets or sting-ball grenades does not amount to intention to commit violence, and those prosecuted simply on these grounds must be released."
Excessive use of force against school children
On 3 December, high school students from across France began their own demonstrations, against reforms to the baccalaureate and university admission procedures. In just a week more than 200 high schools across France were blocked off by students.
Mathieu Barraquier, a teacher from Paris, described escalating tensions after a tree was set on fire outside the Simone de Beauvoir high school: "I heard a rubber bullet and I saw a student collapse. I ran to him and as he turned his head, I saw that his cheek was burst open like a split pomegranate. He had not been throwing stones. He had just been talking with his friends." The boy was hospitalised for two days.
On 6 December, there were clashes between police and students of Saint-Exupery high school in Paris. 163 children, some as young as 13, were arrested, and footage of dozens of high school students forced to kneel with their hands either behind their heads or handcuffed behind their backs went viral.
Mourad Battikh, a lawyer representing several of the children, said some were kept in this position for up to four hours. Another lawyer representing some of the children told Amnesty that some of them were not given food or seen by a doctor before they were questioned. Their interviews with the police were not audio-visually recorded, as is required under French law. Other lawyers were prevented from attending the police interviews.
Rubber bullets used against protesters and journalists
Victim and eyewitness testimonies and footage reviewed by Amnesty show French police shooting rubber bullets and sting-ball grenades into crowds of demonstrators.
During protests on 8 December in Paris, 225 protesters were injured. Audrey*, a street medic, told Amnesty that 10 of the 15 people treated by her team had been injured by rubber bullets. One of these cases involved an injury to the head.
Journalists reporting on the demonstrations have also been among those injured. Footage shows a journalist wearing a press helmet being hit with a sting-ball grenade in the back as he was walking away from the police line. Photojournalist Thierry Olivier told Amnesty that he believed that "photographers were definitely targeted". Another journalist also described how he and his colleagues were "repeatedly shot at by police with rubber bullets."
Journalist Thomas Morel-Fort suffered multiple fractures to his hand after being shot by a rubber bullet despite wearing a helmet which had "press" written clearly on both sides.
Tear gas, confiscation of protection equipment and pre-emptive arrests
In a deliberate tactic, French police appear to have set up barriers to search everyone heading to the demonstrations in order to confiscate protective equipment from protesters, journalists and even medics.
One photographer, Denis Meyer, told Amnesty how his helmet, goggles and face mask were confiscated by police. He was later injured: "I was walking with my camera in front of my face when I was hit by a rubber bullet shot from only 10 meters away."
*Audrey, the street medic, confirmed her own protective equipment was confiscated, she said: "They confiscated my white protective helmet with a red cross on the side as well as the spare masks and goggles I carry for injured people. The tear gas started at around ten o'clock in the morning and carried on almost continuously for four or five hours. There were people struggling to get away. One man who had inhaled too much teargas fell to his knees in spasms, shaking all over."
A court order has allowed police to use pre-emptive measures to search and arrest people in certain areas across Paris. On 8 December, 1,082 people were arrested, including 100 children. Nearly 400 were arrested after being searched at police barriers. Many people who were carrying objects such as helmets, paint or masks were arrested for the offence of "participating in a group that intends to commit damage or violence". Yet many were released from custody the following day due to lack of sufficient evidence against them.