Football Welcomes: Clubs to celebrate refugee footballers in new Amnesty initiative this weekend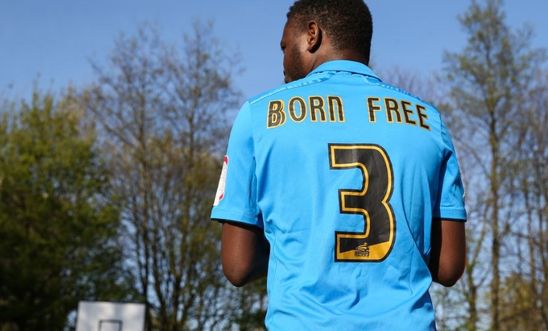 A participant in Notts County's Football in the Community refugee programme © PA/EFL
'I've been given a second chance in England. I'm so grateful for the support I've been given and the chance to turn your life around is something that every refugee deserves' - Saido Berahino, Stoke City
More than 20 clubs - including Leicester City, Hull City, Everton, Southampton, Brentford and Notts County - to show their solidarity and support for refugees
Date marks 80th anniversary of arrival in UK of Spanish Civil War child refugees who became professional footballers here
From the Premier League champions to grassroots local teams, the football community across the UK will be supporting a new Amnesty International initiative this weekend to celebrate the contribution refugees have made to football since the Second World War.
Football Welcomes, a weekend of activities on 22 and 23 April supported by a range of Premier League clubs, the English Football League and the FA Women's Super League, marks the 80th anniversary of the arrival in the UK of some of the first refugees to play professional football here.
They were child refugees from the Spanish Civil War, evacuated to the UK after the infamous bombing of Guernica on 26 April 1937, who went on to play for Southampton, Coventry City, Wolverhampton Wanderers, Brentford, Norwich City, Colchester United and Cambridge United.
Kate Allen, Director of Amnesty International UK, said:
"Refugees have made an important contribution to this much-loved game and to their communities throughout the years. We are delighted that so many football clubs are embracing this. They have a key role to play in helping to promote respect, understanding and integration.
"Eighty years on from the bombing of Guernica in the Spanish Civil War, horrific violence is again forcing many people to flee their homes, leaving everything behind as they look for safety elsewhere. We're very pleased to be working with football clubs to help make refugees who have come to the UK feel welcome. This is the first year of Football Welcomes and we'd love it to become a key fixture in the football calendar for years to come."
Clubs participating in Football Welcomes - including Leicester City, Hull City, Everton, Southampton, Stoke City, Brentford and Notts County - are putting on various activities and events this weekend to show their support for and solidarity with refugees. Some are offering free tickets to refugees living locally or putting on tournaments for refugee participants in their community schemes. Others are organising stadium tours or player visits, or promoting the initiative on their websites or in match programmes.
Stoke City striker Saido Berahino said:
"I'm proud to support Amnesty International's Football Welcomes initiative – it's an issue that is so close to my heart.
"I grew up in Burundi and lost my father in the Civil War there. We had to leave the country in the hope of a better life and although I was separated from my mother for two years, I eventually made it to the UK.
"I've been given a second chance in England. I'm so grateful for the support I've been given and the chance to turn your life around is something that every refugee deserves."
Through their community trust, last year's Premier League Champions Leicester City have organised a football match on Saturday for refugees and asylum-seekers who participate in their outreach projects, and will be holding educational workshops with others in the community about what it's like to be a refugee and why people have to flee their homes. Leicester has a long history of welcoming refugees, including South Asians who fled Idi Amin's Uganda in the 1970s and most recently Syrians fleeing the conflict there.
Hull City is also organising a game for refugees participating in its community scheme before their home game against Watford on Saturday, and is offering them free tickets for the match. Other Premier League teams, including Southampton, Sunderland and Everton, will be providing free tickets to refugees and/or promoting the initiative in their match day programmes or on their websites.
Dan Johnson, Director of Communications at the Premier League, said:
"The Premier League is pleased to see a good number of our clubs supporting 'Football Welcomes', an initiative designed to break down barriers to integration and help new communities settle in England and Wales. Premier League football is known for its ability to help people from all walks of life connect as well as being a force for good in clubs' local areas. The cosmopolitan nature and make-up of our clubs, players and fans has also helped a range of equalities and inclusion issues and we will continue to promote these important agendas."
In the English Football League, Brentford are at home to QPR on Saturday, but the two clubs will be putting aside their rivalries to hold a match for refugee participants in their youth community programmes. They are also offering free tickets to the West London derby to these young people who, wearing Amnesty t-shirts saying "Football Welcomes Refugees" - will make up the guard of honour bringing the players onto the pitch.
Shaun Harvey, EFL Chief Executive, said:
"The EFL is proud to be supporting Amnesty International's Football Welcomes campaign to recognise the significant and lasting contribution refugees have made to the professional game over the past 80 years. Just this month in the Checkatrade Trophy Final the opening goal was scored by Gael Bigirimana, who moved to England in 2004 from Burundi, a goal that helped secure his club a memorable victory at Wembley.
"Our 72 clubs are at the very heart of our communities across England and Wales and have an integral part to play in community cohesion."
Meanwhile, Cambridge United celebrated Football Welcomes on Monday by inviting 15 refugees to their game against Exeter City; Notts County Football in the Community, which runs weekly football sessions for refugees and asylum seekers, will be inviting first-team players Alan Smith and Shola Ameobi to visit the project today (20 April); and Preston North End will be organising a tour of the Deepdale stadium next month for around 60 refugees and asylum-seekers living nearby.
Preston North End Manager Simon Grayson said:
"Eighty years on since the arrival of some of the first refugees to play football since WW2, I am delighted to celebrate the contribution refugees have made to football in the UK. Throughout football, refugees have played and continue to play a significant role in the beautiful game that we know and love today."
In non-league football, Leeds-based football project Yorkshire St Pauli, which runs sessions for refugees and asylum-seekers through its Football for All scheme, has arranged an 11-a-side friendly against St Augustine's, a refugee team from Halifax, and will be dedicating the game to celebrating refugees' involvement in football, past and present. Bath City, who play in the National League South, the sixth tier of English football, invited refugees and asylum-seekers to their game against Poole Town on Monday, and gave them a tour of the ground.
Bath City fan Rich Cowley said:
"I'm so pleased my club got involved with this. It was lovely to meet some of the refugees now living in the city and to see everyone enjoying themselves. It gave me hope that people can and are doing positive things to welcome refugees into their communities."
Background
Eighty years ago this month, after hundreds of civilians were killed in the bombing of Guernica in the Spanish Civil War, an atrocity immortalised in Picasso's black-and-white painting Guernica, thousands fled the bombs raining down on the Basque Country. Among them were nearly 4,000 children who arrived in Southampton from Bilbao on a recommissioned cruise ship a few weeks later. No-one knew it then, but six of the boys on the boat would become professional footballers in England, making them some of the first refugees to play in the English league.
Emilio Aldecoa, a left winger, signed for Wolverhampton Wanderers in 1943. He then moved to Coventry City for two seasons in 1945, before returning to Spain to join Athletic Bilbao and then later, Barcelona. He played once for Spain, before coming back to the UK as assistant manager of Birmingham City in 1960.
Meanwhile, José Bilbao joined him at Coventry for the 1945-46 season, and inside forward Sabin Barinaga signed with Southampton's reserves, then returned to Spain and Real Madrid, scoring the first ever goal in the newly-built Bernabeu stadium in December 1947. Raimundo Peréz Lezama played in goal for Southampton, and Antonio Gallego took up the same position at Norwich. His brother José, played on the wing for Brentford, Southampton, Colchester United and Cambridge United.
Since then, refugee footballers have been making their mark on the English game. Among them are Coventry's Gael Bigirimana, mentioned above, who like Stoke City's Saido Berahino, fled the civil war in Burundi in the 1990s. Bolton Wanderers' former midfielder Fabrice Muamba escaped the conflict in the Democratic Republic of Congo, while the families of Arsenal's Granit Xhaka and Watford's Valon Behrami fled violence and persecution in Kosovo, and Liverpool defender Dejan Lovren and his parents escaped the Bosnian War to safety in Germany.
Participating clubs include:
AFC Wimbledon, Bath City, Blackburn Rovers, Brentford, Cambridge United, Colchester United, Everton, Huddersfield Town, Hull City, Leicester City, Newcastle United, Norwich City, Notts County, Oxford United, Plymouth Argyle, Preston North End, QPR, Sheffield United, Southampton, Stoke City, Sunderland, Watford, Wolverhampton Wanderers, Yorkshire St Pauli, City of Liverpool FC.
Football Welcomes is part of Amnesty International's I Welcome campaign for a better international response to the global refugee crisis.  The campaign encourages local communities to work together to create a more welcoming environment for people fleeing conflict and persecution.
Amnesty International UK would like to thank for their support: the Basque Children of '37 Association; Connect Sport; FARE Network; the Football Supporters Federation; Football Unites, Racism Divides; Kick it Out and the University of Brighton.