Fifa: unique opportunity to 'get human rights off the bench' for future World Cup bids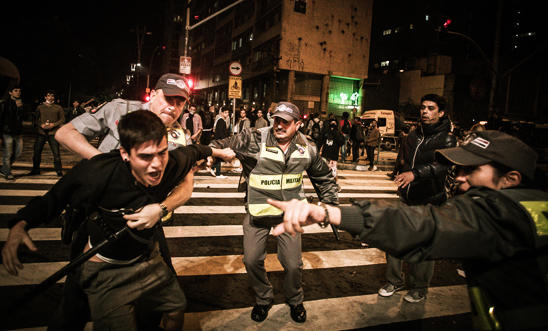 A key meeting of Fifa executives tomorrow offers a 'unique opportunity' to ensure that a country's human rights record is taken into account when awarding the World Cup, Amnesty International said today.
According to media reports, Fifa officials meeting this week will consider a plan to make human rights a factor when considering bids for future tournaments. The plan comes after a global outcry in response to investigations by Amnesty International and others into the conditions faced by migrant workers in Qatar, which will host the World Cup in 2022.
Amnesty International launched its work on sport and human rights at its Sidelines football film festival in London at the weekend, calling on major sports bodies to make a country's human rights record a priority when considering bids to host major tournaments.
Kate Allen, director of Amnesty International UK, said:
"This is a truly unique opportunity for Fifa to get human rights off the bench for future World Cup bids and send a clear and unequivocal signal that they are serious about the issue.

"Workers' rights are a key concern but to be truly worth the paper they're written on, the rules must also cover a number of other areas. Amnesty UK has compiled a list of key human rights concerns linked to major sports events which includes forced evictions, child labour, human trafficking and the right to protest.

"Any new rules must have teeth. Without that, there will always be doubts about how much Fifa really cares about human rights."
With a few days to go until the World Cup starts in Brazil, Amnesty is also warning that protestors taking to the streets across Brazil risk indiscriminate police and military violence as the country steps up efforts to control demonstrations.
Since June last year, thousands of Brazilians have taken to the streets in unprecedented mass protests. They have complained about increases in public transportation costs, high World Cup spending and insufficient investment in public services.
Hundreds were injured in cities across the country after military police fired rubber bullets at people who posed no threat and beat individuals with hand-held batons. With more protests expected during the World Cup, Amnesty is calling on the Brazilian authorities to respect the right to peaceful protest.
Kate Allen added:
"The right to peaceful protest is enshrined in international law. Any new Fifa rules on considering a country's human rights record when awarding the World Cup must urgently address how protestors are treated."