Families of two Britons jailed in Iran will stage 'Bring them home' demo outside Parliament tomorrow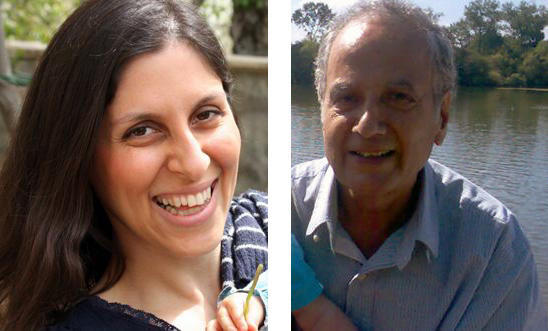 Nazanin Zaghari-Ratcliffe (left) and Kamal Foroughi (right) are both serving long jail sentences after unfair trials © Private
Family and supporters of two Britons jailed in Iran are staging a "Bring Them Home" demonstration outside the Houses of Parliament in central London tomorrow (Wednesday 11 October, 11am) as part of efforts to secure their loved ones' freedom.
Richard Ratcliffe, the husband of imprisoned charity worker Nazanin Zaghari-Ratcliffe, and Kamran Foroughi, son of jailed businessman Kamal Foroughi, will join campaigners from Amnesty International and other supporters at the event.
Supporters of the campaign include the comedian Shappi Khorsandi, who will be attending the event.
Yesterday, Richard Ratcliffe revealed that his wife may be facing fresh criminal proceedings in Iran, with the possibility that she could once again be put on trial in relation to her charity work with the Thomson Reuters Foundation and BBC Media Action. 
Tomorrow's Parliament Square gathering, timed to coincide with a parliamentary debate on human rights in Iran the same morning (9.30-11am), will see Mr Ratcliffe and Mr Foroughi taking part in a mass public reading of "treasured family memories". 
Amnesty supporters have created hundreds of such written memories in solidarity with the two families - many of the memories inscribed on paper tulips, a hugely popular flower in Iran. Supportive MPs are expected to attend and themselves read aloud a memory.
Ratcliffe, Foroughi and supporters will hold "Free Nazanin Zaghari-Ratcliffe" and "Free Kamal Foroughi" placards, as well as tulips.
Nazanin Zaghari-Ratcliffe, 38, and Kamal Foroughi, 78, both UK-Iranian dual-nationals, are serving lengthy prison sentences after being arrested while visiting the country, part of a wider pattern of dual-nationals being singled out by the Iranian authorities. In September 2016, Zaghari-Ratcliffe was sentenced to five years in prison, having been convicted of "membership of an illegal group" in an unfair trial. The charges appear to relate to her employment at Thomson Reuters Foundation, a charity organisation, as well as her past work as an administrative assistant on a BBC Media Action training project.
Similarly, in 2013 Mr Foroughi was sentenced to seven years after being convicted of "espionage", also following an unfair trial. Under Iran's own laws, Foroughi has been eligible for release for several years, though he continues to be held without an official explanation.
Amnesty is calling for the pair to be immediately released and allowed to return to their families in the UK. 
Prime Minister Theresa May (and her predecessor David Cameron) have reportedly raised the two cases with the Iranian president Hassan Rouhani, while UK ministers are also said to have highlighted them with their Iranian counterparts. While the UK Government has formally called for Foroughi's release on humanitarian grounds, it has yet to publicly call for the release of Zaghari-Ratcliffe.